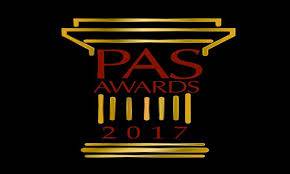 PAS AWARDS 2017
PAS AWARDS 2017
April 15 marked the 7th consecutive fantastic PAS Awards ceremony held at the Expo Centre Karachi by Pakistan Advertisers Society, the only recognized body which has the privilege to host the most prestigious and recognized award programme of the marketing and advertising industry. Celebrating the outstanding brilliant, creative and innovative marketing and advertising effort of the year 2016, the ceremony was held to award jubilant winners at a star-studded gala awards.
Presented by Nurpur and powered by Jazz in association with A-Plus, this year, the award show featured the 19 regular categories, along with the introduction of the two (2) new award categories "Campaign for Good" and "Corporate Campaigns". PAS received an overwhelming response of more than 324 entries form the agencies and brands all across Pakistan. The digital avenue also showcased an increase number of entries, making the medium all the more competitive in the running to win the PAS Awards 2017.
The PAS Lifetime Achievement Award was given to one of the eminent pioneers of the advertising industry Anwar Rammal for his dedication and passion in the field of advertising. The award was presented by the honourable Vice Chairman of PAS Mr. Amir Paracha and Mr. Saqib Zia, General Secretary of PAS.
The host for the award ceremony was Ahmed Ali while the show featured mesmerizing performances by Noori, Sara Haider, Nausheen Shah, Junaid Akram, Khawatoons and Mooroo. The celebrations ended with an all aligned mega staged National Anthem performance.
In strategic partnership with ESP Group M and Urdu 1 as the official broadcast partner, the show was directed by Faraz Lodhi. The Red carpet was hosted by Sana Shakir and celebrity management was done by Moiz Kazmi. While the event was managed by Goosebumpz,
Apart from these exciting performances the show also featured a dazzling line up of award presenters both from the advertising and the entertainment industry like Shazia Syed, Chairperson Unilever Pakistan, Shahbaz Maqsood Khan, Director Marketing Jazz, Aamir Ahsan, CFO Nurpur, Fuad Chundrigar, CEO Asian Foods Industries, Naveed Asghar CMO Habib Bank Ltd., Imran Aslam, President Geo TV Network, Imtiaz Ali, Head of Marketing & Sales Suzuki Motors, Aly Mustansir, Chairman PAS, Tajammul Shaiftah CMO SSI,  Sarmad Ali, President APNS, Abrar Hasan, Former Chairman PAS, Atif Bajwa, President and CEO Bank Alfalah, Fahad Mansoor Zuberi, Director Marketing AAJ TV,  Dr. Hasan Waqas Rana, Film Producer and Director, Batool Rizvi, Editor Visage, Jami Mahmood, Film Director, Azad Films, Shahzeb Mehmood, CEO Reckitt & Benckiser Pakistan,  Nadia Hussain, Shaista Lodhi, Omer Shahzad, Tapu Javeri, Atiqa Odho, Faria Bukhari, Nausheen Shah, Angie Marshall, Rubab Masood and Momal Shiekh.
Other partners at PAS Awards 2017 included Unilever Pakistan, Suzuki Motors, Shan Foods Kinetic, Dunya TV, Aaj TV, Bank Al-Falah, Geo TV, News 1, Skin care, Jang Media Group, Phsiogel GSK and Cola Next.
Event by: Goosebumpz
Celebrity Management: Moiz Kazmi
Styling: Angie Marshall