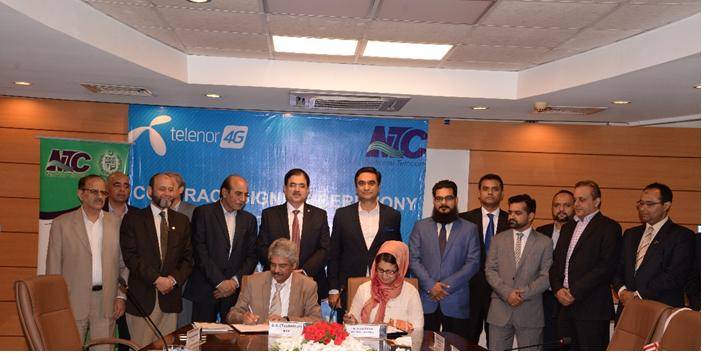 NTC Inked Agreement With Telenor For 3G/4G GSM And Data Services
NTC Inked Agreement With Telenor For 3G/4G GSM And Data Services
ISLAMABAD: In an Agreement signed between National Telecommunication Corporation (NTC), the official ICT services provider to the Government of Pakistan and Telenor Pakistan have signed an Agreement for provision of telecom services to NTC customers across Pakistan, through their mobile network.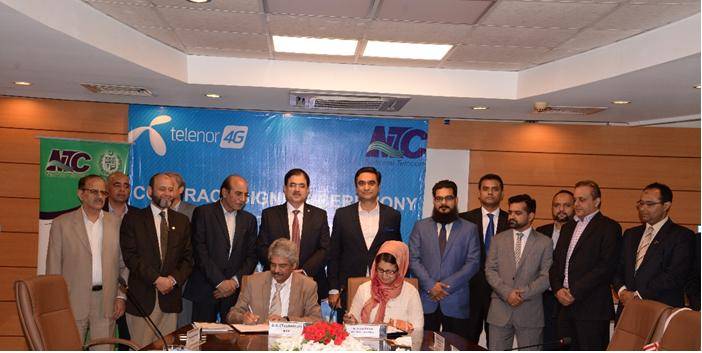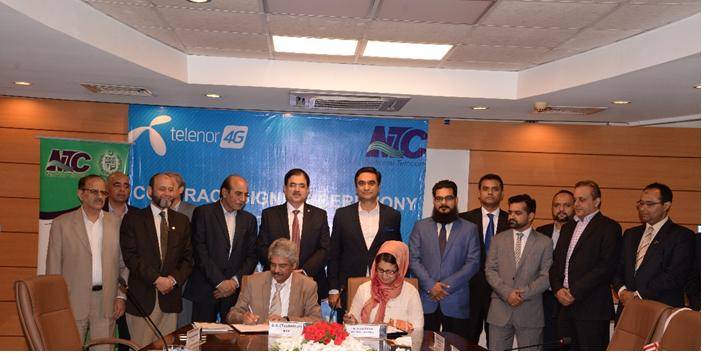 Agreement Signing Ceremony between NTC & Telenor Pakistan for 3G/4G GSM and Data Services
Under the Agreement between NTC and Telenor, Telenor will provide services like internet dongles, mobile handsets and SIM cards to provide 3G/4G GSM and data services in areas where NTC infrastructure is not available.
The signing ceremony was attended by Brig (R) Viqar Rashid Khan, MD NTC and Mr. Irfan Wahab, CEO Telenor Pakistan. The Agreement was signed by respective delegates.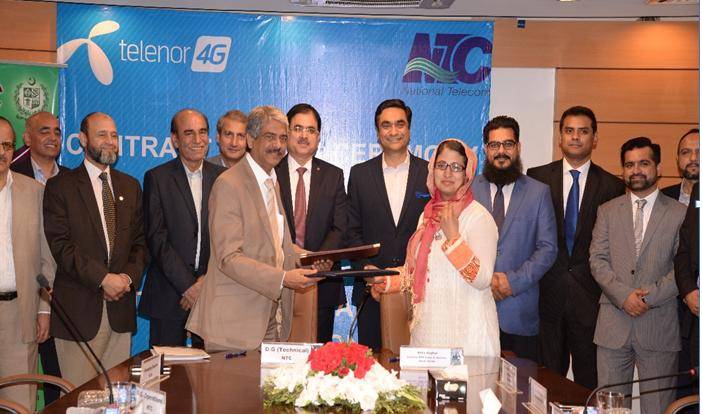 Agreement Signing Ceremony between NTC & Telenor Pakistan for 3G/4G GSM and Data Services
NTC is the official IT & Telecom service Provider for the Government of Pakistan and has been granted Integrated LDI License to provide ICT services to Armed forces, Defense Projects, Federal Government, and Provincial Governments or as the Federal Government may determine. NTC is committed to provide secure, efficient and state-of-the-art ICT services to its valued subscribers.  Brig (R) Viqar Rashid Khan, MD NTC expressed that since its inception, NTC has continued to provide the most innovative ICT services to all government departments. He added that the secure ICT infrastructure provided by NTC will facilitate the subscriber in automating and thereby improving its management and processes.
Telenor started its operation in Pakistan in 2005 for provision of GSM services. Telenor Pakistan has reported a subscriber base of over 36 million, making it Pakistan's second largest mobile operator. Telenor is an international telecom service provider of high quality voice and data services across Europe and Asia. Telenor Group is among the largest mobile operators in the world with 180 million mobile subscriptions and a workforce of approximately 33,000.
MD NTC Mr. Viqar Rashid Khan enlightened the audience of the achievements of NTC during the past four years. NTC is the first operator in Pakistan to establish a Cloud Based National Data Center for the Public Sector. NTC has witnessed unprecedented financial growth of 359% during 2015-16 and an increase in broadband subscriber base by 36%. NTC has extended its services from 54 districts/cities to 87 including underdeveloped districts in Sindh and Baluchistan. The number of exchanges increased from 139 (in 2012-13) to 260 in 2016, thereby overall 87% increase. NTC utilized 99% of its ADP budget in FY 2016-17. Also NTC is the first to use M2M and P2P networks for extending fixed lines and data connectivity. NTC has already resumed the international gateway operations. Large scale Wide Area Networks of CDNS, Election Commission, State Bank, AGP and other strategic organizations have been established. Pertinent to mention that, NTC has also signed a Service Provider License Agreement (SPLA) with Microsoft to provide SaaS in the country through its cloud based National Data Centre. NTC is pursuing strategic partnership with private operators in the Telecom industry to bring new services for its subscribers. NTC is the first in the country to introduce new apps like Go-Smart for its customers and have extended 3G/4G Mobile data connectivity to its subscribers under Public Private Partnership.
MD NTC further briefed about the future plans and projects of NTC. These include establishment of strategically vital submarine cable landing station at Gawader as an alternate route to existing network. NTC further envisions expanding its network to all districts of Pakistan within the next 3 to 4 years. NTC is also managing Country Code Top Level Domain (CCTLD) (پاکستان .) for Urdu and local languages.
NTC will Insha'Allah continue to serve the Government and Public Sector through reliable and secure telecom infrastructure to safeguard against cyber threats. NTC is committed to achieving 'Digital Pakistan' — a vision of Honorable Prime Minister Mian Muhammad Nawaz Sharif.