TECNO Mobile awarded Cash prizes and Motorbikes to the Lucky Stars
TECNO Mobile awarded Cash prizes and Motorbikes to the Lucky Stars
TECNO Mobile got impressive response from its consumers in Pakistan
Tecno Mobile – Pakistan's rapidly emerging smartphone brand is being successful in getting a tremendous response by its consumers and the public. The blessings of Ramadan and joys of Eid enhanced by "Eid Before Eid" campaign by Tecno a few days back. These remarkable days became a source of happiness for the winners of these campaigns and activities. This trustworthy brand got an overwhelming response from its loyal consumers all around the country.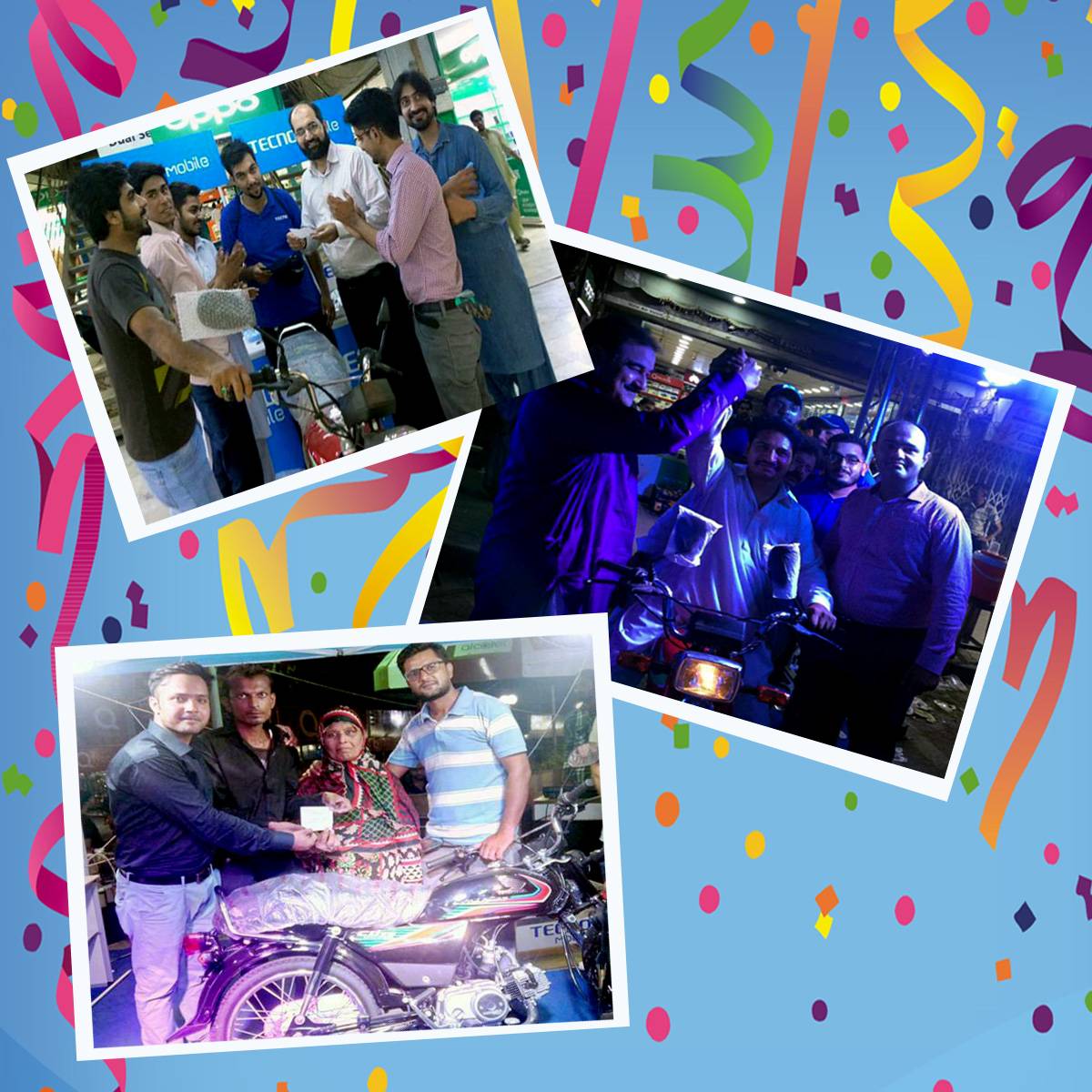 The most admirable fact is that Tecno is new in Pakistani Market yet it is able to sort out good response due to its effective marketing strategy and innovative consumer friendly policies. Tecno Pakistan's Marketing Manager Mr. Jeff Liu expressed his views on these occasions, "Tecno mobile has a broad vision of serving its consumers regarding their social, cultural and religious norms and values. Tecno being one of the competitive brands around the globe aims at providing innovative, durable and affordable smartphones within the price range of the respective country's market. We at Tecno believe on building a trustworthy relationship with our consumers."
Tecno Mobile is one of the best smartphones brands in various parts of the globe. After it's launching in Pakistan in April, the extreme wave of passion and restlessness has been seen in local smartphone savvies. Tecno Mobile was launched under the official distribution of United Mobile, a trusted name in Pakistan, having a wide distribution network. United Mobile has expedite Tecno Mobile since its launching in sales and marketing. Ejaz Hasan, CEO, United Mobile believes that Tecno has the potential to spread over the maximum market in Pakistan, and he is hopeful for a steady success with zeal and determination.
In addition, Tecno came up with the fabulous idea of initiating digital campaigns and ground level activities which affirmed its position in this competitive market. These events were focused on metro cities of Pakistan which include Lahore, Karachi, Multan, Faisalabad, Peshawar, and Rawalpindi. Many lucky winners were able to get cash prizes of up to Rs. 5000/- and 3 lucky stars managed to get Motorbikes from these events. After the success of "Eid before Eid" campaign, Tecno and United Mobile are determined to boost such socially embedded activities for their consumers.
These campaigns boosted business and productivity of Tecno Mobile, resulting in 50% increase in the company's sale. This socially embedded enterprise has a wide range of smartphones for each and every target market. The perfect strategy of providing flagship smartphones like its Phantom 6 and mid-range smartphones in W-series is exceptional. Soon the world will be witnessing the day when Tecno Mobile will be the leading smartphones brand in the country.