Celebrate Independence Day withFoodnerd.pkSpecial Discount Offer
Celebrate Independence Day withFoodnerd.pkSpecial Discount Offer
Islamabad 12th August, 2017: Foodnerd.pk is offering discounts up to 30% off on best restaurants of Islamabad. With relevance to Independence Day, the campaign "Azadi Kuch Bhi Khanay Ki'' aims to cherish freedom to eat any type of cuisines.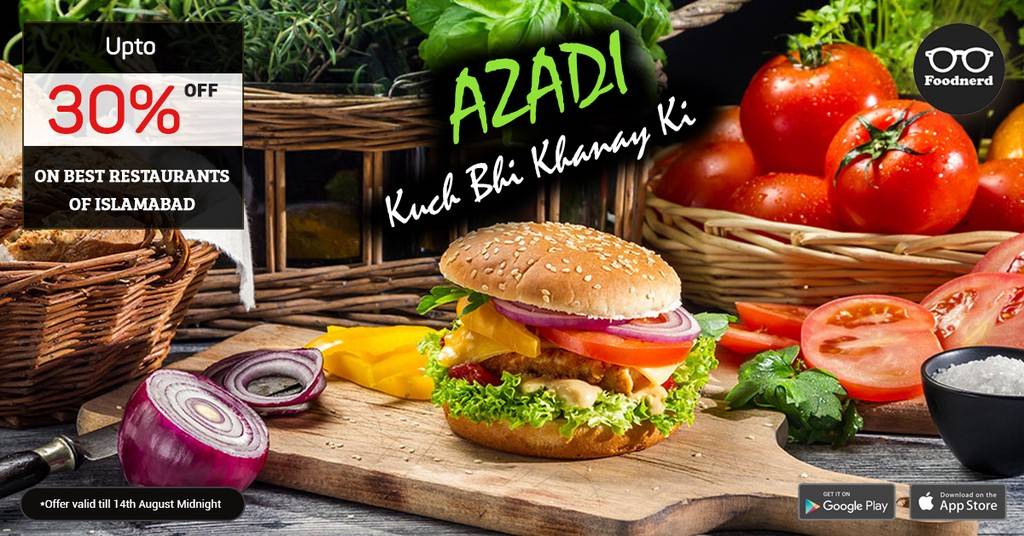 Big discounts are on their way right before the Independence Day, as emerging online food delivery Foodnerd.pk has revealed their latest campaign "Azadi Kuch Bhi Khanay Ki". The campaign is all set to go live from Thursday, 10th August 2017 to Monday, 14th August 2017.
Many restaurants entice their customers by rolling out a string of discounts on various festivities in Pakistan. For this Independence day, foodnerd, aimed to give discount offers on renowned restaurants including Roasters, New Yorker Pizza, Capital delights, Pablo's Burger, Cafe Burnout, Tandoori, Golden Dragon & many more in Islamabad. The offer is valid for maximum order value of Rs2, 500/-
According to team foodnerd.pk, the idea behind the campaign is to celebrate the assortment of delicious food in the capital city. The campaign is a shout-out to all the food lovers in Islamabad to enjoy the cuisines with amazing discounts. The campaign this year has been all about celebrating food with patriotic fervor. The underlying purpose of the campaign is to treasure the freedom of eating the all types of appetizing food in Pakistan with powerful hashtag #AzadiKhuchBhiKhanayKi.
Last week, foodnerd.pk celebrated Friendship Day by offering discounts on all restaurants of Islamabad. The campaign received overwhelming response from isloo-ites regardless of slow internet over the weekend.
To build-up the positive vibe around Independence Day, the online food delivery service is tugging all the right heart strings. The campaign is expected to take Independence Day celebration a stage further to make an online food delivery fun and pleasant experience.