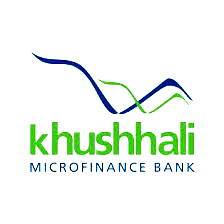 Khushhalibank Celebrated 17 Years of microfinance banking in Pakistan
Khushhalibank Celebrated 17 Years of microfinance banking in Pakistan
Islamabad – 11 August, 2017: Pakistan's largest microfinance bank, Khushhalibank Microfinance Bank (KMBL), celebrated its 17th anniversary to rejoice its vision of rebuilding lives and creating employment opportunities by financing small businesses across Pakistan thereby contributing towards a prosperous future.
In its 17th year, with a nationwide network of branches and having serviced more than 5 million relationships KMBL is confidentlylooking towards greater outreach to a largely unbanked but a potential market fostering financial Inclusion and social impact. Khushhali Microfinance Bank remains committed towards expanding and deepening its presence in Pakistan through new branches and alternate delivery channels to serve the clients and regions where it operatesdedicated to people's economic opportunities by strengthening financial services to small businesses.
Speaking on the occasion, GhalibNishtar, President, Khushhali Microfinance Bank, said: "KMBL'sjourney from 2000-2017 is an accomplishment, which the KMBL fraternity is privilegedto be associated with, KMBL has been a pioneerand set a precedent of providingmicrofinance banking being the first licensed bank in Pakistan."
"Increasing finance to small business and creating job opportunities is fundamental to sustainable economic growth and during this remarkable journey, the Bank witnessed  the business aspirations of countless Pakistanis enabled, and the enrichment of millions of lives. Today, KMBL marches forward challenging new frontiers and developing markets for formal financial services." he further added.
Inaugurated in 2000, Khushhali Micro Finance Bank has expanded its network to 147 branches and 20 service centers in Punjab, covering all of Pakistan, with 1.5 million, and growing, active clients and over 5.5 million loans disbursed, making it the largest microfinance bank in Pakistan today.