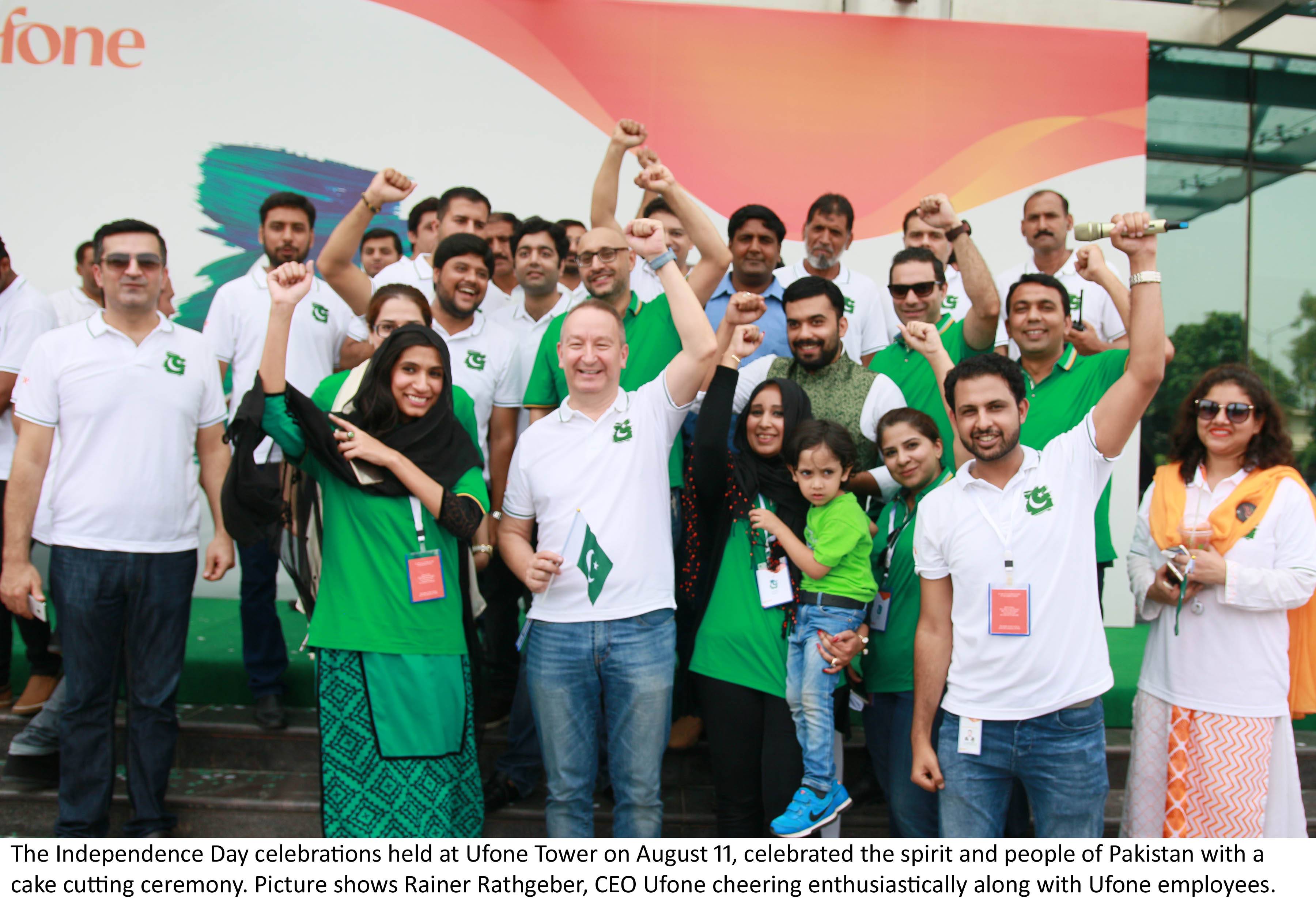 Ufone salutes the spirit of the Pakistani citizens on 70th Independence Day
Ufone salutes the spirit of the Pakistani citizens on 70th Independence Day
Islamabad, August 11, 2017:Ufone is marking Pakistan's 70th Independence Day by celebrating the spirit and people of Pakistan. Ufone employees held an Independence Day event for employees at the Ufone Tower on August 11. Ufone's CEO Rainer Rathgeber gave an inspiring speech at the event, followed by a cake cutting ceremony and the screening of Ufone's Independence Day TVC.
Ufone is launching an Independence Day campaign to honorthe little things that Pakistanis do, that make lives easier for others. The campaign highlights the everyday acts of kindness and compassion that we all witness around us, and which we identify as being the true character of Pakistani people.
Ufone's CEO, Rainer Rathgeber addressed the audience and said, "Ufone as a brand has always recognized and paid homage to every Pakistani – the common men and women of Pakistan who practice thoughtfulness and consideration for others. Ufone is all about the people of Pakistan – the common, but not ordinary, Pakistanis, and we take pride in celebrating this spirit on this Independence Day."
In the past 70 years, a lot has changed for the country, but some things remain the same, including the people and their devotion towards Pakistan and the society. Ufone's previous campaigns have also focused on such people who are making a difference in the society as a result of their strong stance and perseverance for the field they belong to.
Ufone's Independence day TVC conveys the message of the same theme, highlighting examples of small deeds that in fact are great acts of kindness.We are not a developed nation, and common citizens face hindrances in everyday life – like when a heavy rainfall creates puddles, making it difficult for commuters to walk on roads. But it is the ordinary people who will often lay bricks to make a path, or insert tall branches so people can avoid potholes.
Every advertisement that goes out from Ufone includes real people – living real lives –showcasing theirstories and achievements. Ufone's Independence Day campaign continues this trend and reinforces the message of Ufone's tagline: 'It's all about U'.