UNDP & NBP SIGN MOU & FORM PARTNERSHIP FOR PMYBL SCHEME
UNDP & NBP SIGN MOU & FORM PARTNERSHIP FOR PMYBL SCHEME
Islamabad, 31 August 2017 – The young Pakistanis aged 21–45 who have participated in vocational and business training provided by the United Nations Development Programme (UNDP) will receive access to affordable credit to develop small businesses from National Bank of Pakistan (NBP). The facility will be provided as part of the Prime Ministers Youth Business Loan Scheme (PMYBL). A Memorandum of Understanding (MOU) was signed today between UNDP and NBP to increase awareness and access to finance to youth under PMYBL Scheme. The signing ceremony took place at the office of UNDP in Islamabad. MOU was signed by Neil Buhne, United Nations Resident Coordinator Humanitarian Coordinator for UNDP, and Mr. Saeed Ahmad, President & CEO on behalf of National Bank of Pakistan.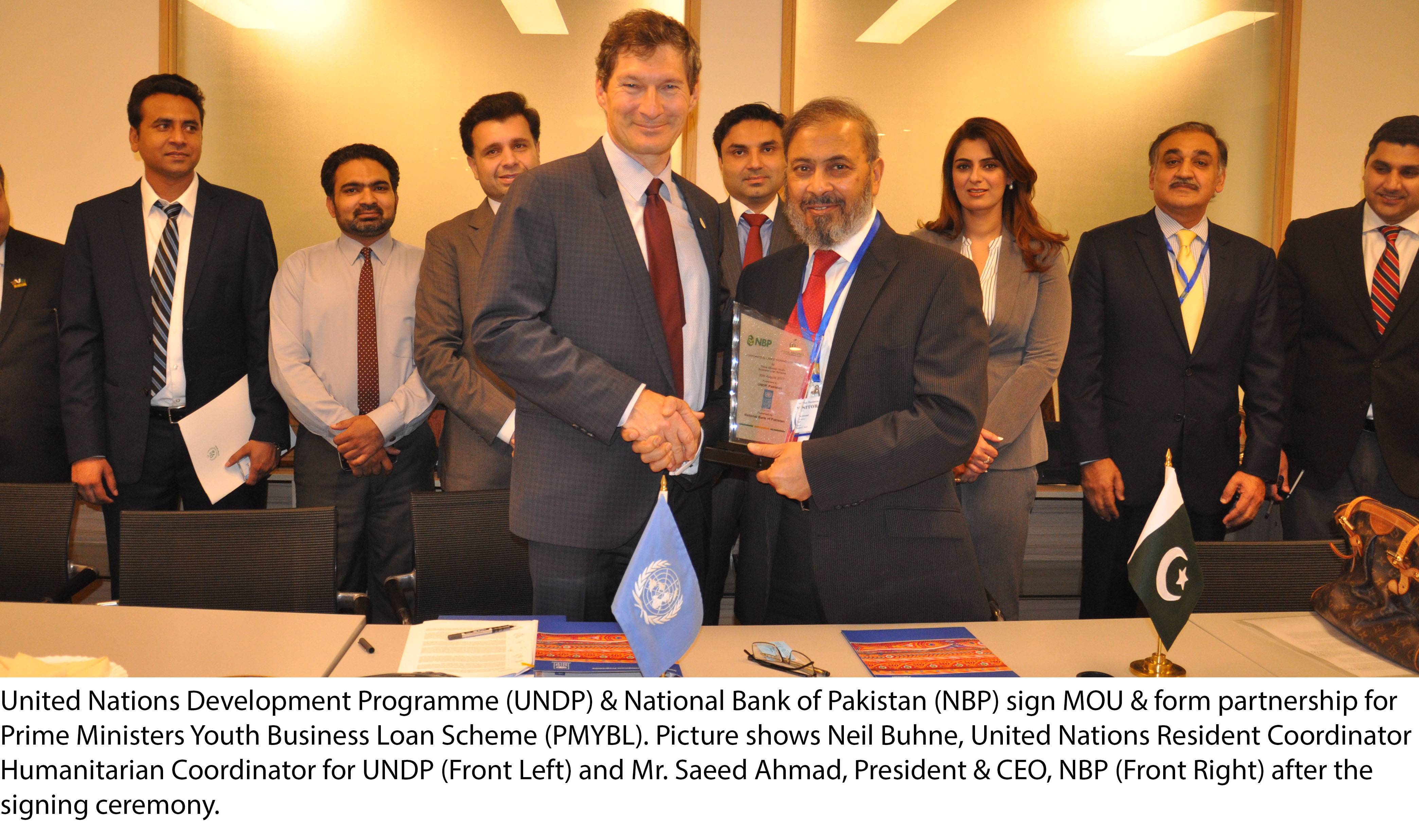 "Harnessing the drive and energy of young Pakistanis is critical to building a vibrant economy and a peaceful and prosperous society," said Neil Buhne. "By ensuring that qualified young men and women from traditionally marginalized communities have access to finance and economic opportunity, we will promote inclusive and sustainable economic growth that benefits everyone in society."
Mr. Saeed Ahmad, President & CEO NBP stated "In Pakistan, over 60% of the population is under the age of 30 years. Public & Private sectors provide jobs.  However, it is imperative for the youth to explore other opportunities such as starting their own businesses in accordance with their skill set. They also have to equip themselves with vocational skills which could enable them to avail opportunities in overseas job markets. In order to cater and strengthen the youth we need to create opportunities and bring them under the umbrella of financial inclusion by offering the deserving ones to avail financial services. NBP is determined to offer these opportunities to well equipped candidates via PMYBL scheme."
Under this two-year partnership, past and present participants in UNDP training programmes will be invited to information sessions conducted by NBP and offer them support to apply to the Prime Minister Youth Business Loan Scheme to increase their chance of benefitting from the facility. Successful applicants will be eligible for loans starting from PKR 100,000 up to PKR2,000,000, under favourable terms, to help them establish or grow their businesses. Information sessions will be held in Peshawar, DI Khan and Bannu in Khyber Pakhtunkhwa, Quetta in Balochistan, and Karachi in Sindh.
So far NBP has awarded more than 17,800 loans to young entrepreneurs across the country amounting to a total of PKR 18.1 billion. These loans fall mostly in Small Business category. SME is considered the backbone of any economy and SBP has placed high priority on this sector. In line with this consideration, NBP is going to promote PMYBL with new vigour.
UNDP provides demand-driven skills, business development training and job placement services to vulnerable youth in deprived and conflict prone areas. These have included over 8,000 youth trained to work in the Karachi garment industry, over 500 of whom have established small businesses; more than 1,000 trained in southern Khyber Pakhtunkhwa, and 3,500 provided business management training in FATA. UNDP is also working with the Governments of Balochistan, KP and Sindh to develop small and medium enterprises and youth entrepreneurship through training and mentorship programmes.
Mr. Saeed Ahmad President & CEO NBP, highly appreciated the hand holding exercise and direction which UNDP is providing to the youth of Pakistan under their vocational training programs. "Having 60% component as part of our demographic composition is not only an opportunity but also a challenge to steer the future of this group in the right direction". He said.
Mr Makhdoom Adeel, Chief Coordinator PM Youth Program (Monitoring) at the PM Secretariat also attended this meeting. He lauded the efforts of National Bank of Pakistan and mentioned that the Government of Pakistan has designed a "Youth Implementation Strategy", where all the provinces will come together and work on empowering the youth present in their respective regions. This strategy will be designed in accordance with the technical, educational & vocational training needs of each province.
The signing ceremony was also attended by Aasim Akhtar, Group Head and Ms. Nageen Rizvi, Vice President from NBP.