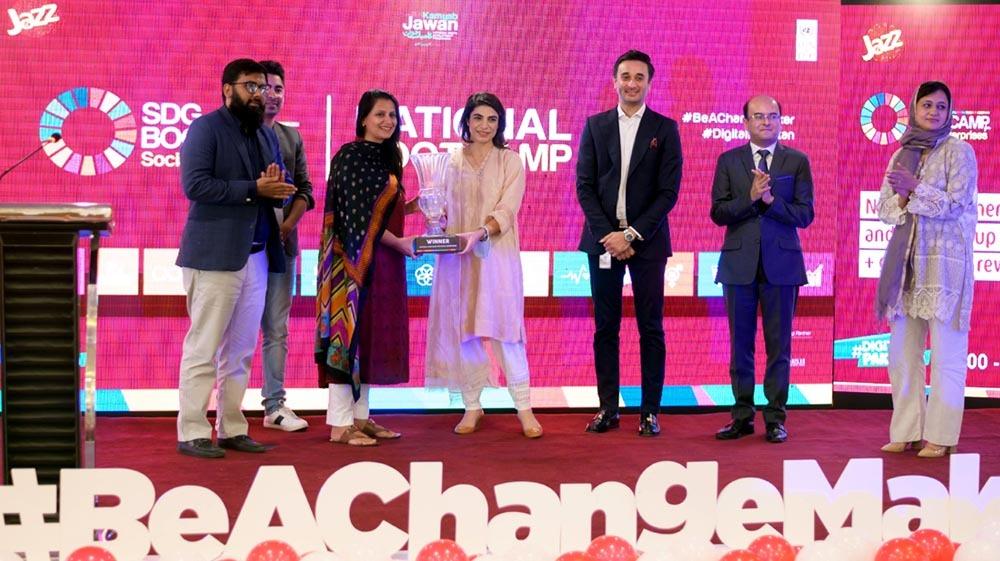 National UNDP-Jazz SDG Bootcamp concludes; Bechlo.pk bags top prize
Bechlo.pk has won the first national Sustainable Development Goals (SDG) Bootcamp conducted jointly by United Nations Development Programme (UNDP) and Jazz. Ten startups, which had earlier won the provincial and thematic bootcamps, participated in the national competition held today in Islamabad.     
The winning startup, Bechlo.pk, is a fully integrated online multi-vendor store that provides women with a platform to sell new and pre-loved items from the comfort of their homes. The startup will now be provided with an opportunity to join Youth Co:Lab: the largest youth Social Entrepreneurship movement in Asia and the Pacific along with access to mentorship opportunities and exclusive digital giveaways by Jazz. 
Ms. Laura Sheridan, Programme Manager of UNDP's Youth Empowerment Programme, said at the occasion, "UNDP believes that by developing young people's 21st century skills, and by catalysing and sustaining youth-led startups and social enterprises here in Pakistan, we can jointly position young people front and center to solve the country's most pressing challenges. Together with Jazz, we have provided entrepreneurial skills and supported our participants to develop business plans for sustainability and scalability of their social enterprises."
Syed Ali Naseer, Chief Business Officer at Jazz, said, "Pakistan's increasingly tech savvy youth demographic of over 60%, can be a massive driver for growth. This is a tremendous asset for the country towards achieving its socio-economic goals. Jazz is delivering on its promise of empowering youth through technology, knowledge, skillset, and capital. Our partnership with UNDP is a validation of our commitment to strengthening Pakistan through partnerships and I hope these boot camps inspire other social entrepreneurs to take a chance on turning their ideas into successful businesses." 
These bootcamps are a part of the agreement inked between UNDP and Jazz in December 2020 with an aim to promote promising social ventures that are addressing the country's developmental challenges. So far, these bootcamps have trained, mentored, and educated 201 nationwide social enterprises, including 159 female participants. The program comprises overall 20 bootcamps nationwide by December 2022 targeting close to 800 youngsters and 50 percent women participation.