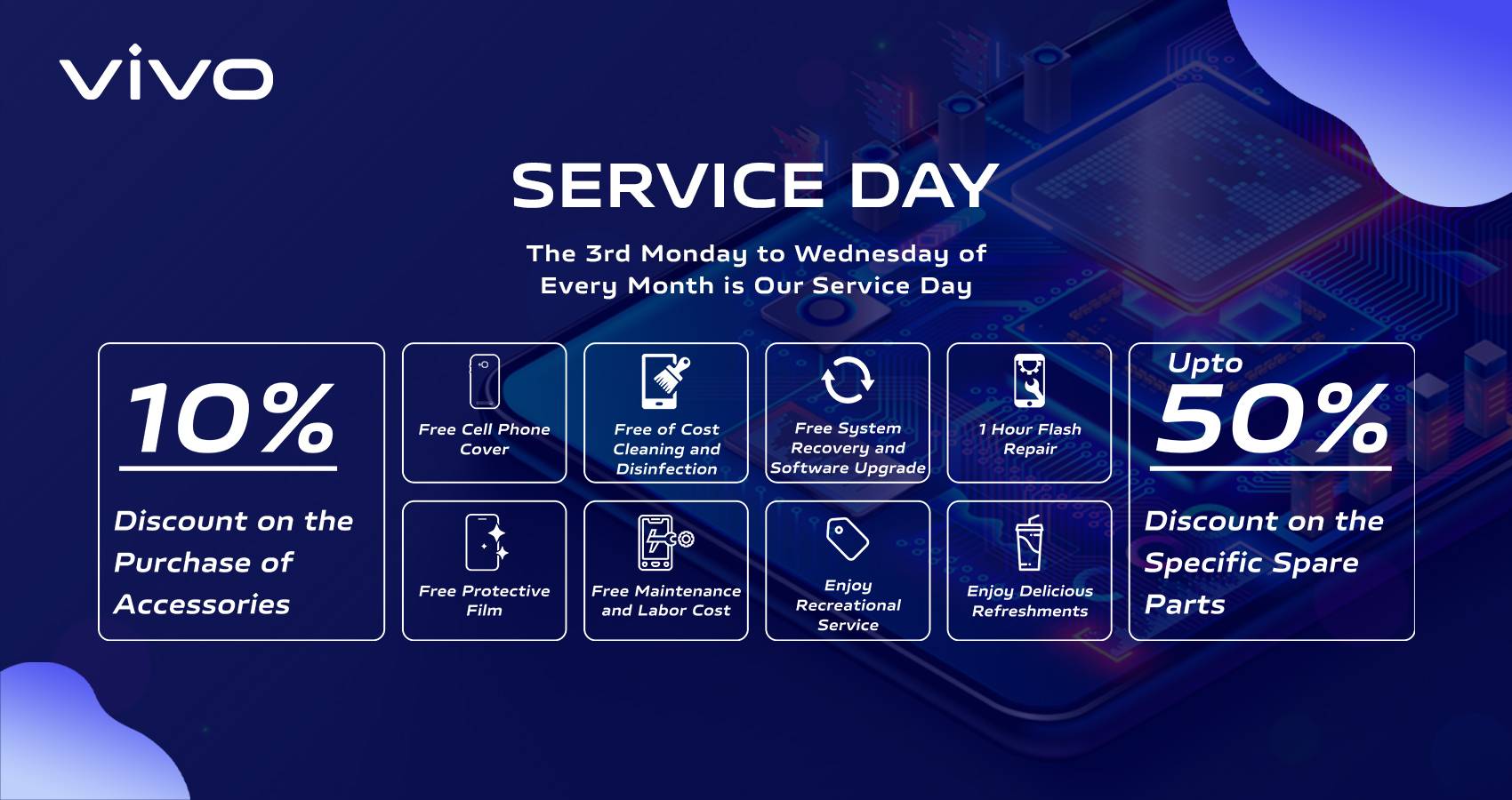 vivo Service Day Enhancing User Experience Across Pakistan
With its global reputation for excellence and innovation, vivo is pleased to offer 'Service Day' in Pakistan, which takes place every month from the third Monday through Wednesday. This initiative by vivois dedicated to providing customers with an exceptional and hassle-free experience.
vivo recognizes that customer expectations are constantly changing, and it has responded by developing creative and considerate services to meet their every demand. With the introduction of Service Day, vivo aims to emphasize its dedication to delivering exceptional products and services to its valued customers — taking the customer experience to unparalleled levels of excellence.
vivo's Service Day is an integral part of the brand's philosophy of putting the customer at the center of everything it does. Launched in 2020, this initiative has proved to be highly successful in enhancing the after-sales experience for vivo smartphone users.
During the Service Day, customers can avail themselves of complimentary services such as smartphone cleaning and disinfection, system recovery and software upgrades, and maintenance without incurring any labor costs, in addition to protective film and covers. Through this initiative, vivo aims to empower and support consumers in Pakistan by providing easy access to cutting-edge technologies and a hassle-freeexperience.
At vivo, placing the customer at the centre of all operations is of utmost importanceand that's why 'Service Day' is a critical aspect of the brand's philosophy. Launched in 2020, this initiative has been a resounding success, improving the after-sales experience for vivo smartphone users.
During Service Day, customers can take advantage of a range of complimentary services, including phone cleaning and disinfection, system recovery and software upgrades,maintenance, and protective film and covers. This initiative is designed to empower and assist Pakistani consumers by offering hassle-free access to cutting-edge technology.Top of Form
Speaking with pride about the numerous options available, Kevin Jiang,Customer Services Director at vivo Pakistan, said "As a brand committed to providing top-notch technology and customer-centric services, vivo is delighted to offer its much-appreciated Service Day in Pakistan. The Service Day is dedicated to ensuring that customers have a smooth and satisfying after-sales experience. This initiative is now stronger than ever before, thanks to the immense love and support we have received from local consumers.At vivo, we believe that value-added services are an integral part of our commitment to providing a superior customer experience. We strive to solve our customers' problems as quickly and efficiently as possible, and we are proud to offer cutting-edge products and services that provide the best shopping experience. Our ultimate goal is to fulfill the needs of our customers, and the Service Day is just one of the many ways we aim to achieve this."
For further information about vivo Service Day and services, consumers can call on toll-free number 0800-00111, visit vivo's authorized local service centres or visit the official website for more information. Customers can now also resolve their queries in real-time throughWhatsApp by contacting 042-35710132.