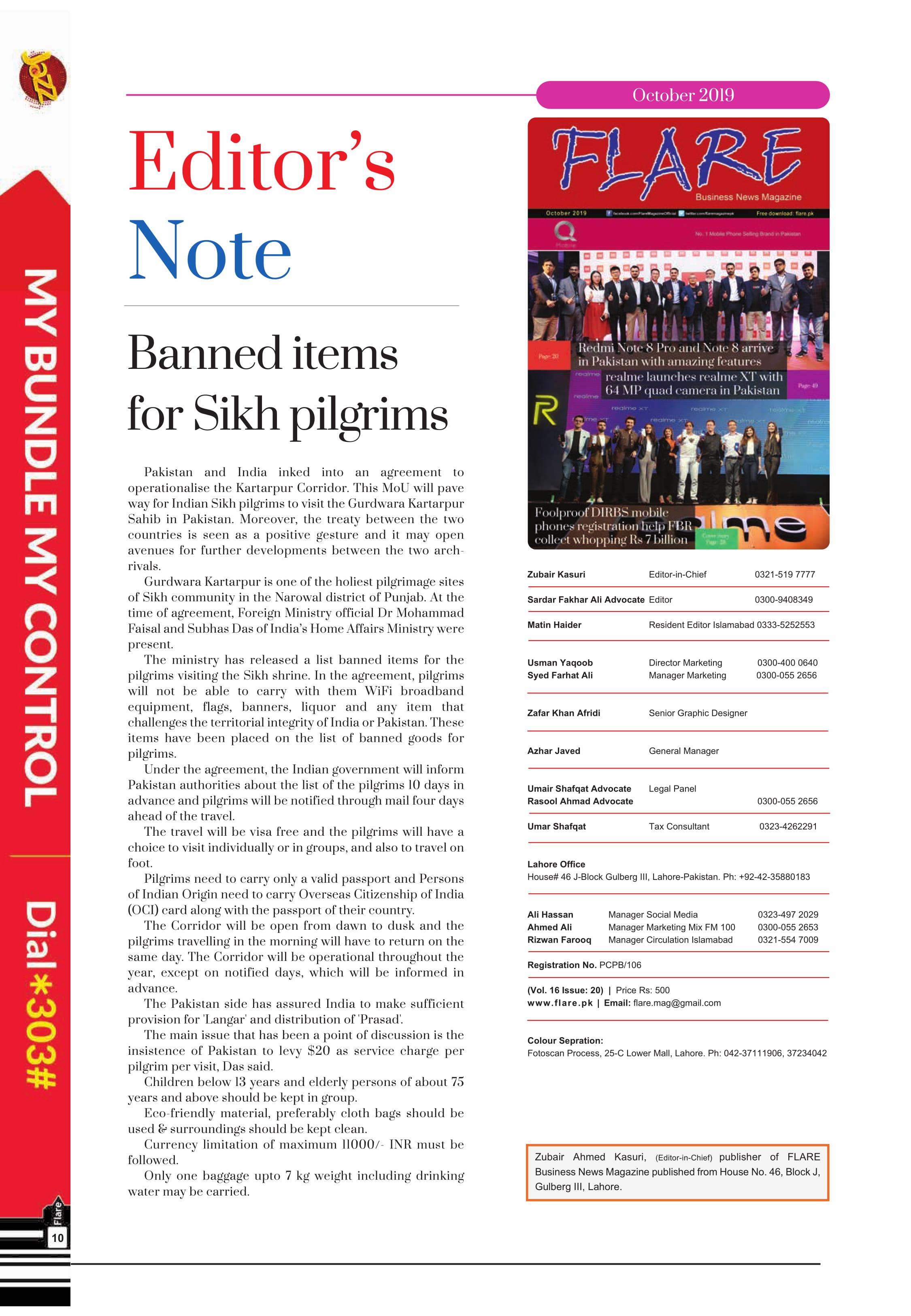 Banned items for Sikh pilgrims
Pakistan and India inked into an agreement to operationalise the Kartarpur Corridor. This MoU will pave way for Indian Sikh pilgrims to visit the Gurdwara Kartarpur Sahib in Pakistan. Moreover, the treaty between the two countries is seen as a positive gesture and it may open avenues for further developments between the two arch-rivals.
Gurdwara Kartarpur is one of the holiest pilgrimage sites of Sikh community in the Narowal district of Punjab. At the time of agreement, Foreign Ministry official Dr Mohammad Faisal and Subhas Das of India's Home Affairs Ministry were present.
The ministry has released a list banned items for the pilgrims visiting the Sikh shrine. In the agreement, pilgrims will not be able to carry with them WiFi broadband equipment, flags, banners, liquor and any item that challenges the territorial integrity of India or Pakistan. These items have been placed on the list of banned goods for pilgrims.
Under the agreement, the Indian government will inform Pakistan authorities about the list of the pilgrims 10 days in advance and pilgrims will be notified through mail four days ahead of the travel.
The travel will be visa free and the pilgrims will have a choice to visit individually or in groups, and also to travel on foot.
Pilgrims need to carry only a valid passport and Persons of Indian Origin need to carry Overseas Citizenship of India (OCI) card along with the passport of their country.
The Corridor will be open from dawn to dusk and the pilgrims travelling in the morning will have to return on the same day. The Corridor will be operational throughout the year, except on notified days, which will be informed in advance.
The Pakistan side has assured India to make sufficient provision for 'Langar' and distribution of 'Prasad'.
The main issue that has been a point of discussion is the insistence of Pakistan to levy $20 as service charge per pilgrim per visit, Das said.
Children below 13 years and elderly persons of about 75 years and above should be kept in group.
Eco-friendly material, preferably cloth bags should be used & surroundings should be kept clean.
Currency limitation of maximum 11000/- INR must be followed.
Only one baggage upto 7 kg weight including drinking water may be carried.