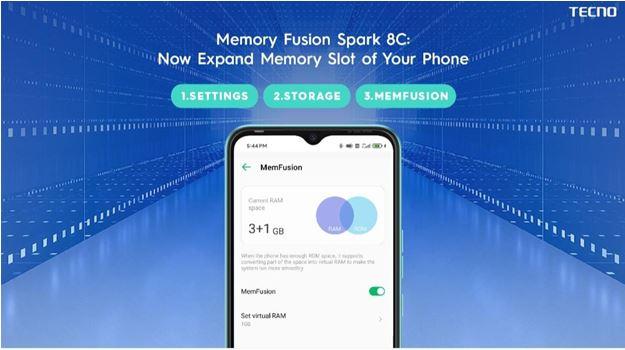 Memory Fusion Spark 8C: Now Easily Expand Memory Slot of Your Phone
Memory Fusion Spark 8C: Now Easily Expand Memory Slot of Your Phone
TECNO SPARK 8C comes with 4GB of RAM, a 90hz refresh rate, and a 13 MP camera, making it one of the finest buys in the whole mobile market.
That's not it, but today, in this post, we will be focusing on a new feature that's cool yet amazing – The Memory Fusion.
A feature that makes 4GB of RAM go up to 7GB. Memory Fusion.
What Is Memory Fusion?
It's a novel technology recently implemented by TECNO Mobiles to allow devices to utilize more RAM than the hardware provides.
Technically, not many smartphones have this feature. But, you have it in the SPARK 8C phone.
Almost no gadget offers more virtual RAM than 3GB right now.
Why Is SPARK 8C Memory Fusion Great?
This is great because RAM size is one of the most important factors in determining how well your phone can perform many tasks at once.
As a result, your device's own memory is being used to support the RAM. With adequate storage, it will work.
A 64GB SPARK 8C is an example of this. To ensure that the virtual RAM allotted can function properly, It has recommended that you store the majority of your stuff on an SD card instead of the internal memory.
You may not have this option by default, but you may enable it by going into the settings menu.
How Does It Work?
Two software updates has actually required. For an online or local update, you can go to your device's settings menu, scroll down to a system, and click on system update at the bottom of the page. Selecting an online update is what you would be needing to do.
To obtain the second update, simply go through the same method as the first one. You will be able to use virtual RAM after these changes.
How To Enable This Option?
Memory fusion  found by going to "Settings", scrolling down to "Storage", and selecting it.
When you do this, you'll be presented with a menu where you select how much Virtual RAM you want to add. There is a limit of 3GB extension, however, you can turn it off if you don't need it.
TECNO Spark 8C's RAM  increased from 4GB to 7GB using this method.
The Myth Regarding Memory Fusion
People might think that virtual RAM may not be as good as physical RAM, but it does a better job of improving multitasking than the device's built-in RAM.
Wait! There's More to SPARK 8C
The SPARK 8C's virtual RAM isn't the only feature that's a fantastic value for the money.
In addition, there is a 90Hz screen refresh rate that improves your scrolling experience. Also, the UniSOC CPU power this TECNO mobile, which is the first gadget to enable it.
Furthermore, many customers have reviewed it to be working well and giving off literally no problems.
With Android 11 and TECNO's bloated HiOs 7.6 on board, we know what to expect from the SPARK 8C.
In terms of battery life, this device's 5000 milliamp-hour battery is more than adequate. The 13-megapixel rear camera and 8-megapixel front-facing camera deliver respectable results, especially in good lighting, so expect that the Spark 8c is a good value all in all.
Another thing to add here is that you would be getting a few accessories along with the phone when you purchase it. This includes a Preinstalled screen protector which is one of the standard TECNO accessories that come with the SPARK 8C. You should know that it has a 10 Watt charger built-in and that it charges by micro-USB.
Conclusion
All in all, TECNO SPARK 8C is tremendously provided all the features. You have gotten a review of what this phone has all about along with a detailed explanation of the Memory Fusion feature that has a buzz around it.
(Memory Fusion Spark 8C: Now Easily Expand Memory Slot of Your Phone)