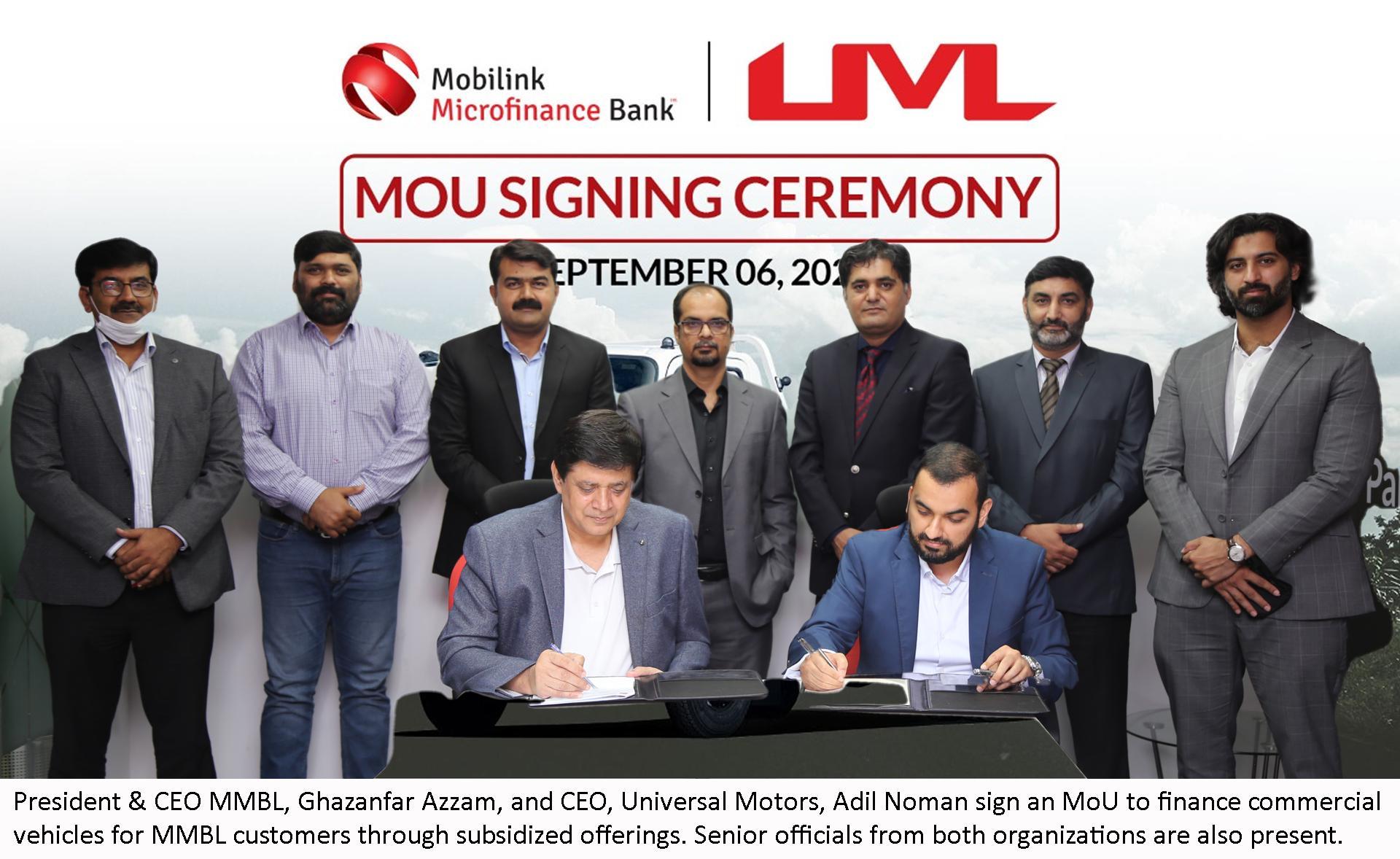 MMBL inks MoU with Universal Motors for Financing Commercial Vehicles for its Customers
: Pakistan's largest digital bank, Mobilink Microfinance Bank Limited (MMBL) has signed a Memorandum of Understanding (MoU) with Universal Motors (Private) Limited, a prominent importer, exporter, and manufacturer of commercial vehicles in Pakistan. The collaboration will facilitate MMBL Borrowers by allowing them to finance commercial vehicles from Universal Motors through subsidized offerings.
President & CEO MMBL, Ghazanfar Azzam, and Adil Noman, CEO Universal Motors signed the MoU in Islamabad with senior officials from both organizations in presence. The collaboration will usher in fast-track and priority financing for MMBL borrowers to attain commercial vehicles from Universal Motors for starting or expanding their business operations, under convenient terms.
Following the MoU, MMBL customers will get fast product delivery Turnaround Times (TAT), in addition to the provision of 1S/2S/3S dealership or retailer services by Universal Motors, near MMBL branches across the country to extend after-sale services for borrowers.
Creating further ease for borrowers, the vehicles will be delivered at MMBL branch cities with Universal Motors sharing the registration costs, and offering vehicle delivery from Karachi to the destination city at subsidized transportation rates.
Sharing his thoughts at the signing ceremony, President and CEO MMBL, Ghazanfar Azzam said, "MMBL's expansive product portfolio has witnessed a significant growth trajectory over the past few years with the introduction of more and more customer-centric products that are aimed at facilitating maximum convenience for empowering our borrowers in true sense. This collaboration with Universal Motors will further solidify our aim of promoting hassle-free attainment of commercial vehicles, for business use, which will substantially be backed by quality after-sales services."
Adil Noman, CEO Universal Motors said, "Our collaboration with MMBL will help us target low-income groups that need financing for our sturdy and dependable JMC commercial vehicles. Universal Motors is introducing special financial incentives and logistical support to fully facilitate MMBL borrowers. We are hopeful that our collaboration with MMBL will drive our shared ambition of supplementing the economic development of Pakistan."
MMBL is committed towards promoting financial inclusion for all through its efficient digital ecosystem that is empowering many Pakistanis each day, supporting its long-term ambition of augmenting socio-economic growth and development at the grass-root level in the country through swift and easy access to finance.