TECNO Mobile Launches an Exquisite and Advanced Camera Technology Smartphone in Pakistan The TECNO WX4 Pro
TECNO Mobile Launches an Exquisite and Advanced Camera Technology Smartphone in Pakistan The TECNO WX4 Pro
TECNO Mobile has recently launched TECNO WX4 Pro; the most awaited and mid-range smartphone equipped with advanced technology. After the magnificent launch of TECNO Camon CX and CX Air, an advanced technology smartphone like WX4 Pro is a smart move from the Chinese smartphone manufacturer who is relatively a new comer in the Pakistani market.
The first thing that the customers will notice about the WX4 Pro is its aesthetics. A beautifully crafted full-metal body and a stylish design will grab your attention right from the start. The smartphone has a 2.5D curved cover and a large5.0-inch high definition display. With a thickness of just 4.5mm, the phone has a snug fit in your hand and surprisingly is very comfortable for one-handed operations.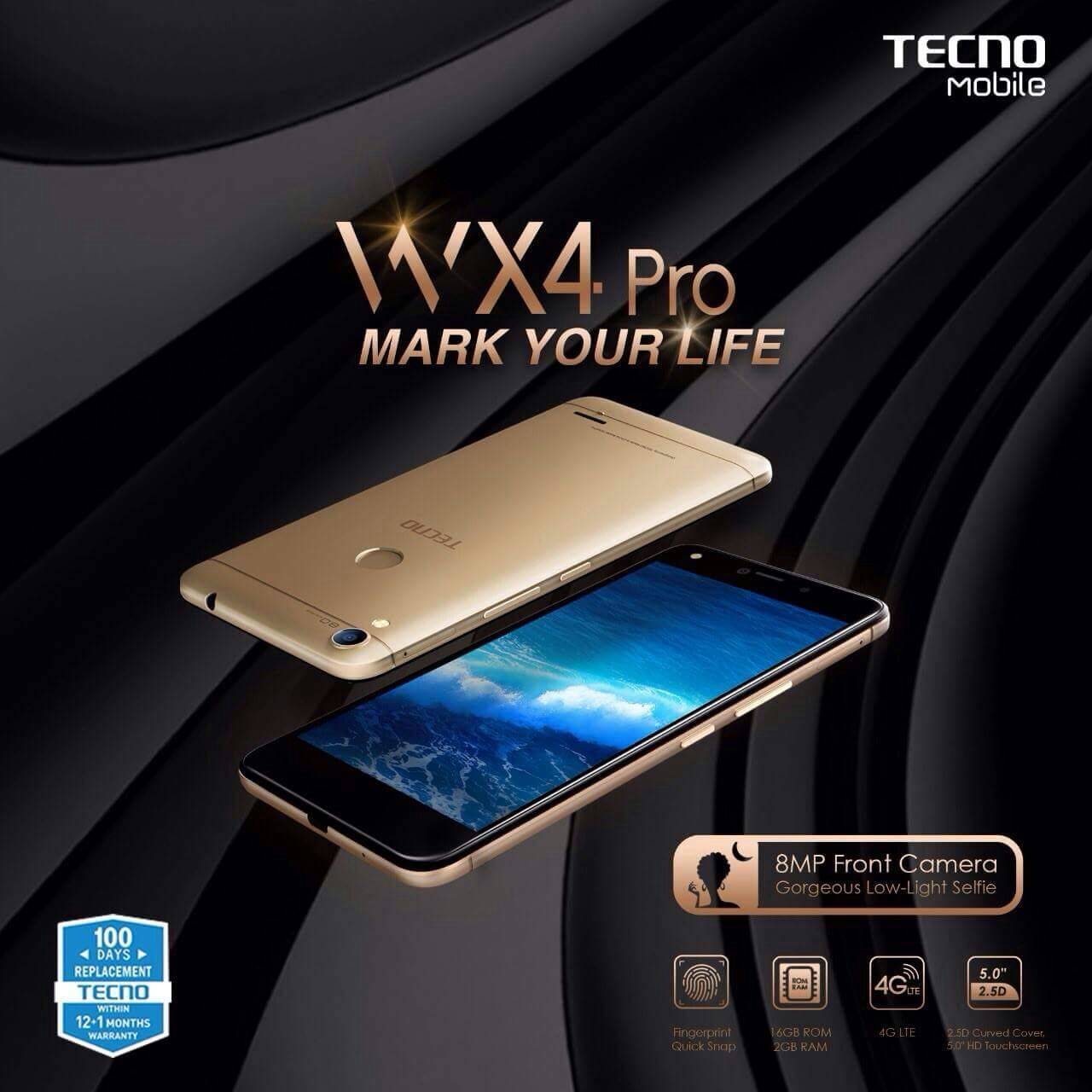 TECNO has redefined mobile phone photography with its advanced technology and the WX4 Pro inherits some of the best camera features that users of Camon series are already enjoying. The WX4 Pro offers an 8MP front camera with a dual flash option (an LED flash and a screen flash).With a 120° wide-angle lens supported by the amazing "Low-Light" enhanced photography technology, the WX4 Pro produces 'Grand-selfies' that are sharp, bright and vivid. However, the camera offers even more – the built-in smart filters and special effects offer a wide range of enhancements to make your selfies look as good as professional photographs.
The main camera is even better. The 8MP rear camera supports a 120uf flash and a wide range of filters to add special effects to your photographs. The powerful flash and TECNO's advance camera technology brings even the minute details to life. The quality of photography available on the WX4 Pro alone makes this smartphone an ideal companion of any travel enthusiast with a passion for photography.
However, this smartphone is not just all looks. Underneath the hood, there is a powerful Octa-Core, 1.3GHz processor with 2GB RAM and 16GB ROM. These specs offer smooth operations and effortless multitasking. The WX4 Pro has dual micro SIM-card slots and an independent slot for micro-SD to expand the storage space up to 32GB.
To ensure secure access, the device offers an efficient fingerprint scanner that supports multiple functions such as security unlock and camera operations. The smartphone also has a super powerful sound system allowing users to enjoy quality music that is 30% louder compared to other phones. The gorgeous high-definition screen and super volume will let the WX4 Pro users enjoy an almost cinematic movie experience and a 2,800mAh Li-Polymer battery will ensure that the phone will not run out of juice. The battery offers smart power-saving technology and fast charging that cuts charging time to 1 hour, offering non-stop user experience.
TECNO Mobile is known to consistently offer the best technology smartphones in the market while keeping customer experience at the highest priority. TECNO WX4 Pro is designed on the same principles and offers fine features at the best price. The smartphone is specifically designed keeping the young generation, office workers and the social media lovers in mind. TECNO WX4 Pro is wonderful smartphone with many features that are rarely available together even in a high-end smartphone. This gorgeous-looking selfie smartphone is available in the market all across Pakistan from both authorized dealers and retailers.