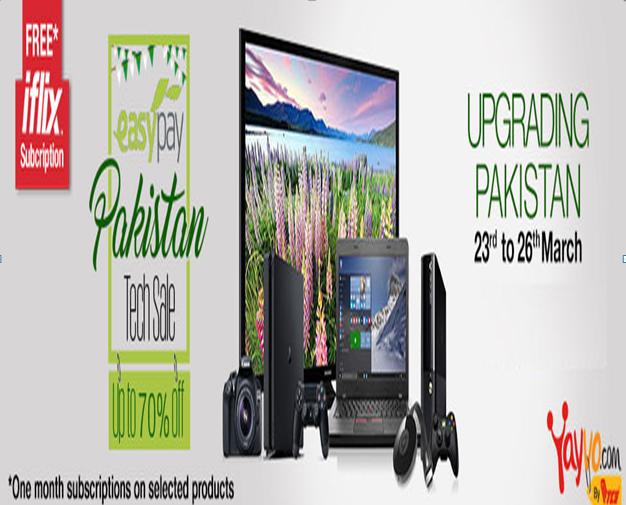 YAYVO ANNOUNCES FIRST EVER PAKISTAN DAY GRAND TECH SALE
YAYVO ANNOUNCES FIRST EVER PAKISTAN DAY GRAND TECH SALE
Karachi 20th March, 2017: Known as the day when the people of South Asia gathered and decided to form an independent homeland, 23rd March – Pakistan Day is a day of great national and international significance.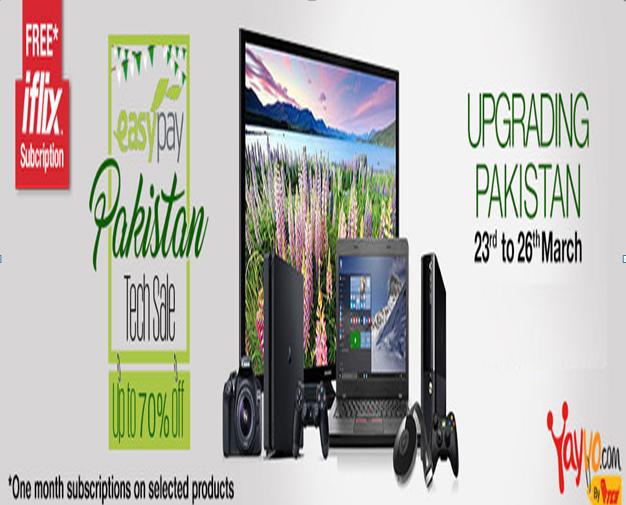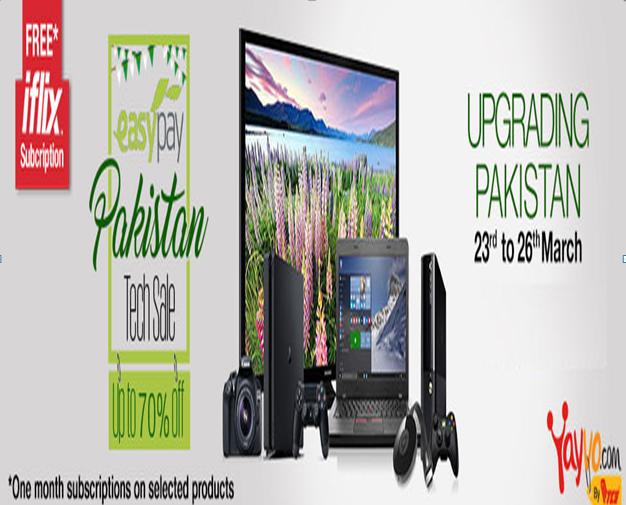 On this Pakistan Day, Yayvo by TCS, the nation's leading Pakistani e-commerce company is playing its role in taking the nation and its people to new heights through its campaign of Upgrading Pakistan with the latest in tech. With great discounts on all your favourite products, Yayvo is all set to help YOU upgrade your technology for less. Set to be held from 23rd to 26th March, the Yayvo Grand Tech Sale promises customers discounts of up to 70% on mobile phones, gadgets, appliances and much more! Added bonus? Yayvo has also partnered with iFlix to give unlimited subscriptions to all Yayvo customers on the sale day.
To facilitate customers for ease of payment, Yayvo has partnered with EasyPay for this sale. Easypay, under Easypaisa's umbrella, is Pakistan's first consolidated Online Payment Solution that facilitates online merchants and their customers with different payment options for convenient and secure payments.
Omar Moeen Malik, Head of Digital Payments at Telenor Microfinance Bank said, "We are extremely happy to have partnered with Yayvo to power their payments for their Grand Tech Sale. He further added, "As the leading online payments service in Pakistan, we are also very thankful to Yayvo and their customers, for trusting us to process their payments safely and conveniently."
The four-day sale starts as soon as the clock strikes 12 am on the 23rd of March. Playing forward on the mantra of #SabarNot (don't wait), Yayvo is also holding a Flash Sale starting at 6 pm on 22nd March, where some of the best deals will be revealed.
"This is the first time that Yayvo and EasyPay have strategically partnered for an event. This is yet another great strategic alliance aimed to benefit all our customers, to bring amazing discounts and easier payment methods, which builds on our vision to deliver beyond customer expectations," said Adam Dawood, Head of Yayvo.
Customers will be able to avail additional discounts of up to 20% off when they check out via Easypay using either the debit/credit card option, Easypaisa account or by visiting any of the 75,000+ EasyPaisa shops across Pakistan. To top it all, Yayvo customers can also get additional discounts if they pay through Yayvo's payment partners – Meezan Bank (flat 20% off) andUBL (flat 15% off).
Time-bound deals, flash sales, thousands of products to select from, 6 major categories, 4 days! PS4s, LED TVs, iPhone 7, air conditioners, microwaves, PS4 games and much more! So what are you waiting for? Be the first one to find out about all the great deals by subscribing at Yayvo.com/Pakistan-tech-sale. Learn how to make your EasyPay account here: