Vimpelcom's Brands Listed Among World's Most Valuable
Vimpelcom's Brands Listed Among World's Most Valuable and WIND Italy Named Telecommunications Operator of the Year For 2015
Amsterdam (July 6, 2015), "VimpelCom Ltd." ("VimpelCom", "Company" or "Group") (NASDAQ:VIP), a leading global provider of telecommunications services headquartered in Amsterdam and serving over 218 million customers, today announces that five of its brands have been identified among the world's 250 most valuable telecoms brands in 2015, according to the 'Brand Finance Telecoms 500 2015'report produced by Brand Finance*, a leading consultancy specializing in brand valuation.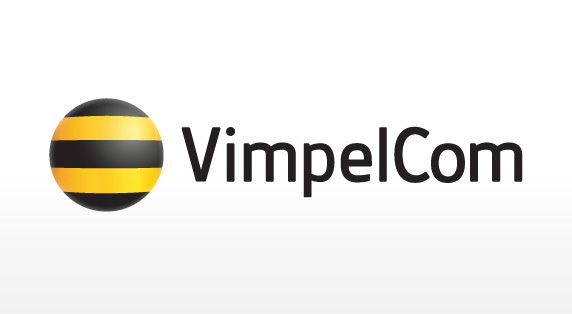 VimpelCom's Djezzy (Algeria), Mobilink (Pakistan), Beeline (Russia), WIND (Italy) and Kyivstar (Ukraine) brands all featured among the top 250 telecoms brands across the globe (out of the 900 assessed). The Group's banglalink (Bangladesh) brand was ranked number 262, placing it in the top 300 telecom brands worldwide. Djezzy rose 29 positions to 171, while Mobilink moved up 59 places to 201.
Two of VimpelCom's brands, Beeline and WIND, were recognized among the report's top 100 global telecom brands: Beeline was valued at USD 2.6 billion**, while Wind was valued at USD 1.6 billion.
Rozzyn Boy, VimpelCom's Chief Communications Officer, says: "VimpelCom's international portfolio of brands has grown at an impressive rate over the past 22 years and now collectively serve over 218 million customers across 14 countries. We are proud to have earned and improved on a number of leading positions in the global telecoms brand rankings, particularly for our Djezzy and Mobilink brands which have recently undergone brand refreshes in their local markets."
In addition to being recognized among the top 100 global telecom brands, WIND has also been named Italy's Telecommunications Operator of the Year for 2015 by the Le Fonti International Awards, Milan. Commenting on the Award, Maximo Ibarra, CEO of Wind, says: "Winning this Award is testament to the team who have worked relentlessly over the past year to ensure that our customers are getting the best deals, service and experience possible."
Notes
*The 'Brand Finance Telecoms 500 2015'report benchmarks the strength, risk, and potential of a brand relative to its competitors. Brand Finance's work is peer-reviewed by the big four audit practices (Deloitte, KPMG, EY and PwC), and are also validated by various regulatory bodies, including the UK Takeover Panel. Around 900 of the world's telecoms operators were analyzed for this year's report.
**based on expected future sales