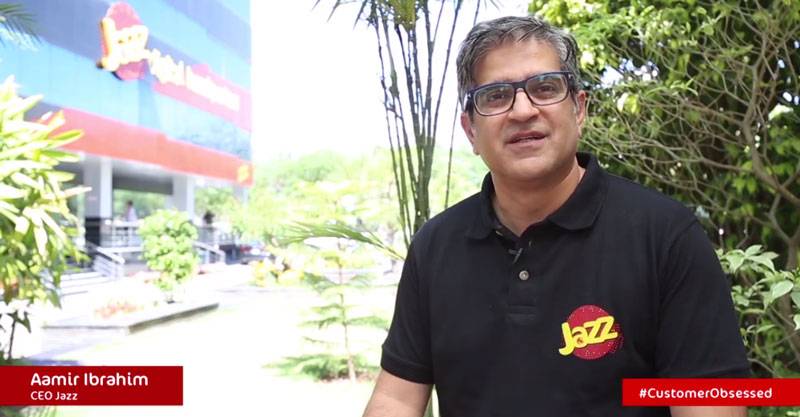 Jazz Celebrates First Ever Customer-Obsessed Day Across Pakistan
Jazz Celebrates First Ever Customer-Obsessed Day Across Pakistan
Islamabad, 11 May, 2017: Jazz, Pakistan number 1 digital company, kick-started its customer-centric agenda by taking to the streets to celebrate its first customer-obsessed day (COD). Over 3000 Jazz employees including the company's leadership team left their offices and met customers in markets and public spaces across Islamabad, Karachi, Lahore, Peshawar and Multan. The teams thanked their subscribers for their loyalty and recorded their suggestions and feedback. High-end Jazz X smartphones and free talk time were given to respondents who participated in a survey.
Leading from the front, JAZZ's CEO Aamir Ibrahim, spent a few hours meeting customers in Islamabad said "We pride ourselves for being customer-obsessed company and thank our family of over 53 Million customers. This COD is a celebration of and a testament to this commitment. We need to know what our customers want and need for Jazz and its employees to serve them better every single day. As the CEO it was great to revisit the sales experience and see what the incredibly hardworking teams at JAZZ experience every single day and thank them for a job well done."

"Our customers are at the core of everything we do," said Asif Aziz, Chief Commercial Officer at JAZZ. "They provide us with the inspiration to be innovative and entrepreneurial and develop the best possible solutions, products and services to help them connect seamlessly. Today, we celebrate our customers and thank them for choosing us as their network of choice."
To extend the reach and address more customer queries the Jazz management team also held digital sessions via Jazz's Official Facebook page. The COD marks a new chapter in Jazz's legacy of being a customer-centric company.
About Jazz
Jazz is the umbrella brand of Mobilink (Pakistan Mobile Communications Limited) re-introduced as a complete telecommunications ecosystem. Jazz continues Mobilink's leadership in the telecommunications arena by spearheading a digital revolution in the country through the introduction of innovative services & products. The brand's ultimate goal is to empower every citizen of Pakistan in today's fast paced digital economy through its primary products i.e. Jazz Internet, Jazz Voice, JazzCash, and Jazz X.