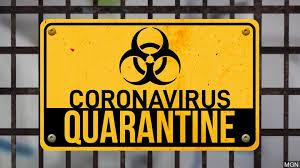 QUARANTINE SURVIVAL
Whether you are self-quarantining or are forced to stay indoors under a lockdown, it is difficult. You might enjoy it for the first couple of days, but eventually it will have an effect on your mental health. You might miss going out to the market, hanging out with your friends at café's. You even may start missing going to the office and the gym.
So how can you best prepare for weeks of being cut off from the world? Here are some tips from those who have already been through it in China as to how to psychologically survive quarantine.
1)     Build a Life Online
This has to be of paramount importance. In this digital age, you have the facility to take your life completely online. Apart from social networking, you can work on self-improvement by learning new skills. For instance, DigiSkills.pk is an online platform where you can learn government certified freelancing skills in 3 months completely free!
2)     Prepare Financially
There is no denying that businesses will suffer, meaning you will suffer financially. While firms have been paying out salaries even to those who can't work, many people have been out of luck. Start thinking now about what a month of no or reduced income would mean to you—and preparing to move as much of your work life online as possible. Freelancing is proving to be a promising platform to earn money while being stuck at home.
3)     Build Routines
Although it might be tempting to have endless pyjama days, getting up, washing, having breakfast, building a timeframe and schedule for the day is really, really crucial. Activities such as cooking, learning new skills, exercising, looking after plants, painting, and reading have proved lifesavers.
4)     Spend Quality Time with Family
Our loved ones need us more than ever in this state. We finally have the time from our busy schedules to spend time with parents, siblings, kids, pets etc. Let's reconnect with them.
5)     Prepare the Essentials
This does not mean you hoard onto whatever you can get your hands on! Plan essential items you would need for a week or two and purchase accordingly. Like you always do! The government is working on resupplying and restocking shelves.
This isn't preparation for apocalypse—it's readying yourself for a stressful and highly inconvenient but temporary experience, concentrating on the psychological experience more than the health side.