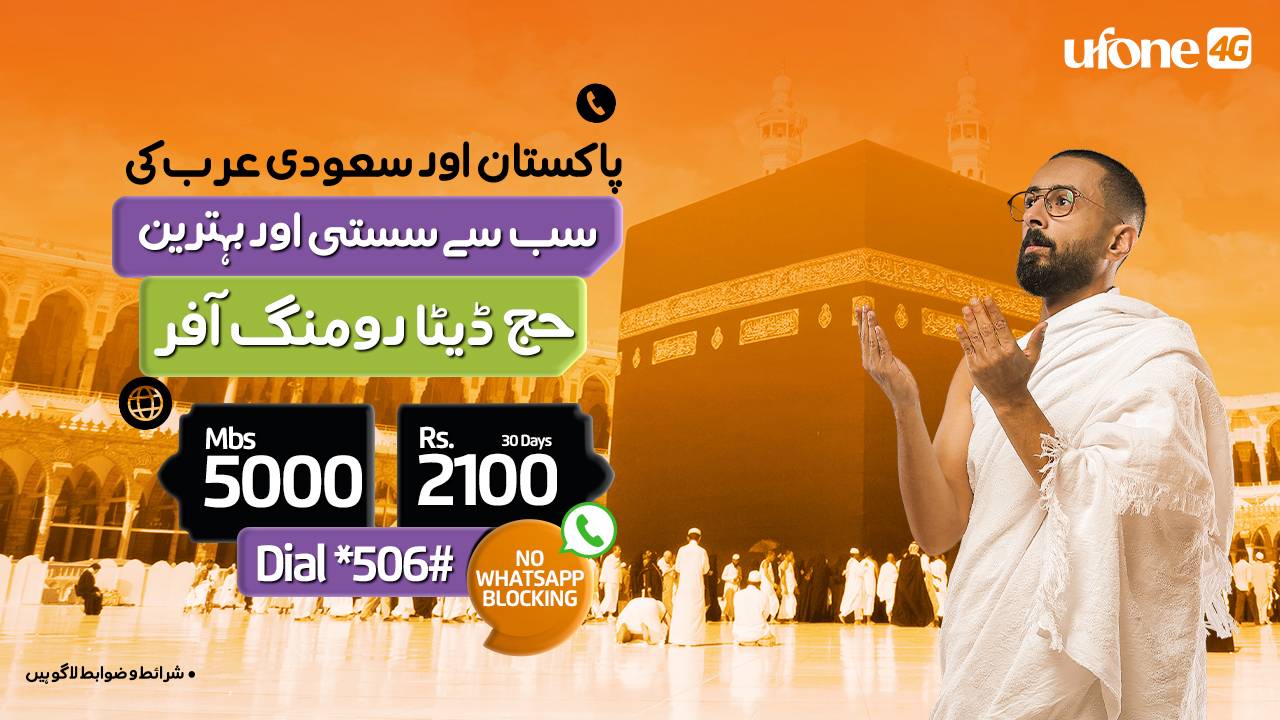 Ufone 4G connects pilgrims through its industry-best Hajj Data Roaming Offer
Pakistani telecom operator Ufone 4G provides seamless data connectivity through its industry-best and most competitive 'Hajj Data Roaming Offer' to its prepaid customers travelling to the Kingdom of Saudi Arabia for Hajj. The exceptionally reasonable offer comes with generous allocations of data volume and allows exclusive access to WhatsApp calls for open communication with friends and family back home.
The offer has been designed to provide a worry-free user experience to Ufone 4G customers during the pilgrimage. The large volume of data allows for easy exchange of photos, videos and video calls from the Holy Land so the pilgrims can virtually include their friends and family in the blessed experience. Customers may choose from three data buckets of varying volume depending upon their budget and need. Each of these bundles has a validity of 30 days.
Bucket 1 offers 1000 MB for just PKR 490. Bucket 2 offers 2500 MBs of data and is priced at PKR 980, while Bucket 3 provides access to 5000 MBs for just PKR 2100. These are the lowest price in the industry for any roaming service, aiming at bringing unprecedented ease and convenience for Ufone 4G users embarking on the Holy Pilgrimage. Ufone users may digitally subscribe to their desired bucket through Ufone 4G website, My Ufone App or by simply dialling *506# from their handset.
Apart from KSA, Ufone 4G also provides roaming services in Iraq, Qatar, UAE, Turkiye and the United Kingdom to help its users stay connected during their travel to these countries. Ufone 4G's constant innovation and promptness in introducing a new range of products and services now and then speaks volumes of its unfailing focus on bringing the best user experience to its customers.