Pakistan Telecommunication Authority approves Mobilink's merger with Warid
Pakistan Telecommunication Authority approves Mobilink's merger with Warid
Islamabad (23 May 2016) – The Pakistan Telecommunication Authority ("PTA") has today approved the merger of Pakistan Mobile Communication Limited ("Mobilink") and Warid Telecom (Private) Limited ("Warid")*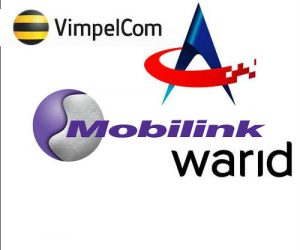 This is yet another milestone in the regulatory process and follows the approval granted in March, 2016 by the Competition Commission of Pakistan.The deal remains subject to further regulatory approvals and other customary closing conditions.Jeffrey Hedberg, President and CEO of Mobilink, said:  "We are pleased that the Pakistan Telecommunication Authority has approved the merger of Mobilink and Warid, marking a further important milestone in the regulatory process.  I am confident that thecombination of the two businesses will benefit customers through a best-in-class mobile and high-speed network, and contribute to the overall development of the telecommunications sector in Pakistan as an integral part of the economy.  We look forward to bringing innovative technology solutions through world-class telecom services to our customers in the new combined entity."
*The approval contains certain conditions.
Disclaimer
This release contains "forward-looking statements", as the phrase is defined in Section 27A of the U.S. Securities Act of 1933, as amended, and Section 21E of the U.S. Securities Exchange Act of 1934, as amended. Forward-looking statements are not historical facts, and include statements relating to, among other things, anticipated benefits from the Pakistan merger, including network improvements and synergies; future market developments and trends; anticipated regulatory approvals; and the timing of anticipated regulatory approvals. The forward-looking statements included in this release are based on management's best assessment of the Company's strategic and financial position and of future market conditions, trends and other potential developments. Forward-looking statements involve risks and uncertainties, including, without limitation, the possibility that: the conditions to completion will not be satisfied or waived or that the requisite regulatory approvals will not be obtained or will be obtained on terms not acceptable to the parties and the transaction; the expected benefits of the transaction may not materialize as expected or at all, due to, among other things, the parties' inability to successfully implement integration strategies or otherwise realize the synergies anticipated; the businesses of either or both of Mobilink or Warid may not perform as expected prior to or following completion of the transaction due to uncertainty or other market factors; and other risks and uncertainties beyond the parties' control may materialize. If such risks or uncertainties materialize or such assumptions prove incorrect, actual results could differ materially from those express or implied by such forward-looking statements or assumptions. Certain other factors that could cause actual results to differ materially from those discussed in any forward-looking statements include the risk factors described in the Company's Annual Report on Form 20-F for the year ended December 31, 2015 filed with the SEC and other public filings made by the Company with the SEC. The forward-looking statements speak only as of the date hereof, and the Company disclaims any obligation to update them or to announce publicly any revision to any of the forward-looking statements contained in these presentations, or to make corrections to reflect future events or developments.
About VimpelCom
VimpelCom (NASDAQ: VIP) is an international communications and technology company, headquartered in Amsterdam, and driven by a vision to unlock new opportunities for customers as they navigate the digital world. Present in some of the world's most dynamic markets, VimpelCom provides more than 200 million customers with voice, fixed broadband, data and digital services. VimpelCom's heritage as a pioneer in technology is the driving force behind a major transformation focused on bringing the digital world to each and every customer. VimpelCom offers services to customers in 14 markets including Russia, Italy, Algeria, Pakistan, Uzbekistan, Kazakhstan, Ukraine, Bangladesh, Kyrgyzstan, Tajikistan, Armenia, Georgia, Laos, and Zimbabwe. VimpelCom operates under the "Beeline", "Kyivstar", "WIND", "Mobilink", "banglalink", "Telecel", and "Djezzy" brands.