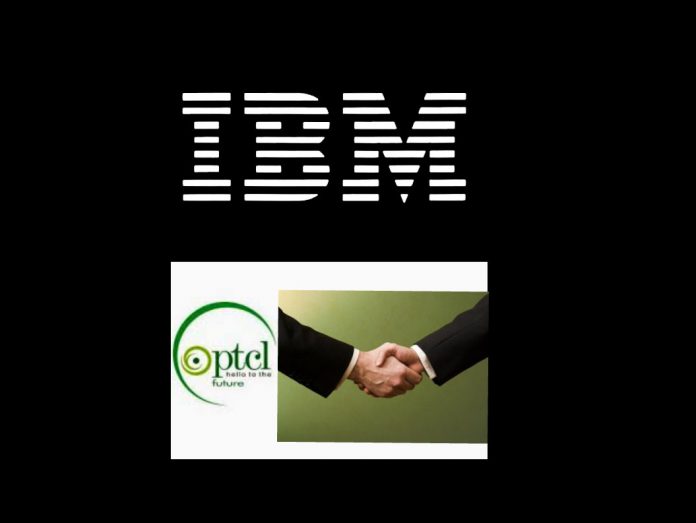 PTCL and IBM Partner to offer Cloud Services across Pakistan
Islamabad, July  11, 2016: Pakistan Telecommunication Company Limited (PTCL) has signed an agreement with IBM Italia S.p.A (Pakistan), for launching Public Cloud Services in Pakistan. The IBM turnkey solution will be hosted at PTCL's state-of-the-art Data Centers in Lahore and Karachi for corporate customers.
This is a landmark agreement between two leading industry players.  PTCL, using the IBM cloud platform, will be offering cutting edge services such as Infrastructure as a Service (IaaS) with Virtual Private Servers (VPS), Disaster Recovery Site (DRS), Backup and Storage as a Service along with Webhosting Solutions and Compute on Demand to customers in Pakistan. The IBM cloud platform, equipped with the latest technologies, is an important step forward in developing a viable information technology infrastructure and a natural progression of PTCL's successful datacenter business in Pakistan.
On the occasion, Kamal Ahmed, Chief Digital & Corporate Services Officer, PTCL, said: "The PTCL- IBM Infrastructure-as-a-Service (IaaS) agreement is an important step forward in our efforts to create greater value, not only for our customers but the entire enterprise segment. Corporate customers and SMEs will now have best-in-class cloud services to benefit from. We believe that this initiative will be a strong catalyst in development of the ICT sector in Pakistan."Ghazanfar Ali, General Manager, IBM Pakistan said: "Cloud is changing the IT landscape across the world. This collaboration brings a reliable in country Public Cloud service built on the well-established capabilities of IBM and PTCL. IBM is a global leader in IaaS due to the differentiation it provides in key areas like Security, Flexibility and Innovation. Now enterprises can focus more on their core business as IBM and PTCL can take care of their infrastructure needs with world-class technology, connectivity and processes."Over the years, PTCL has invested in the data center business and today hosts several large and mid-size enterprise customers. This serves as a solid foundation to launch the IaaS service which will serve the IT needs of the Enterprise and SME segments of the Pakistani market. The agreement would enable both PTCL and IBM to leverage each others' capabilities and expertise in connectivity and IT infrastructure, respectively, and cater to the growing demand of cloud computing, which is gaining traction in Pakistan