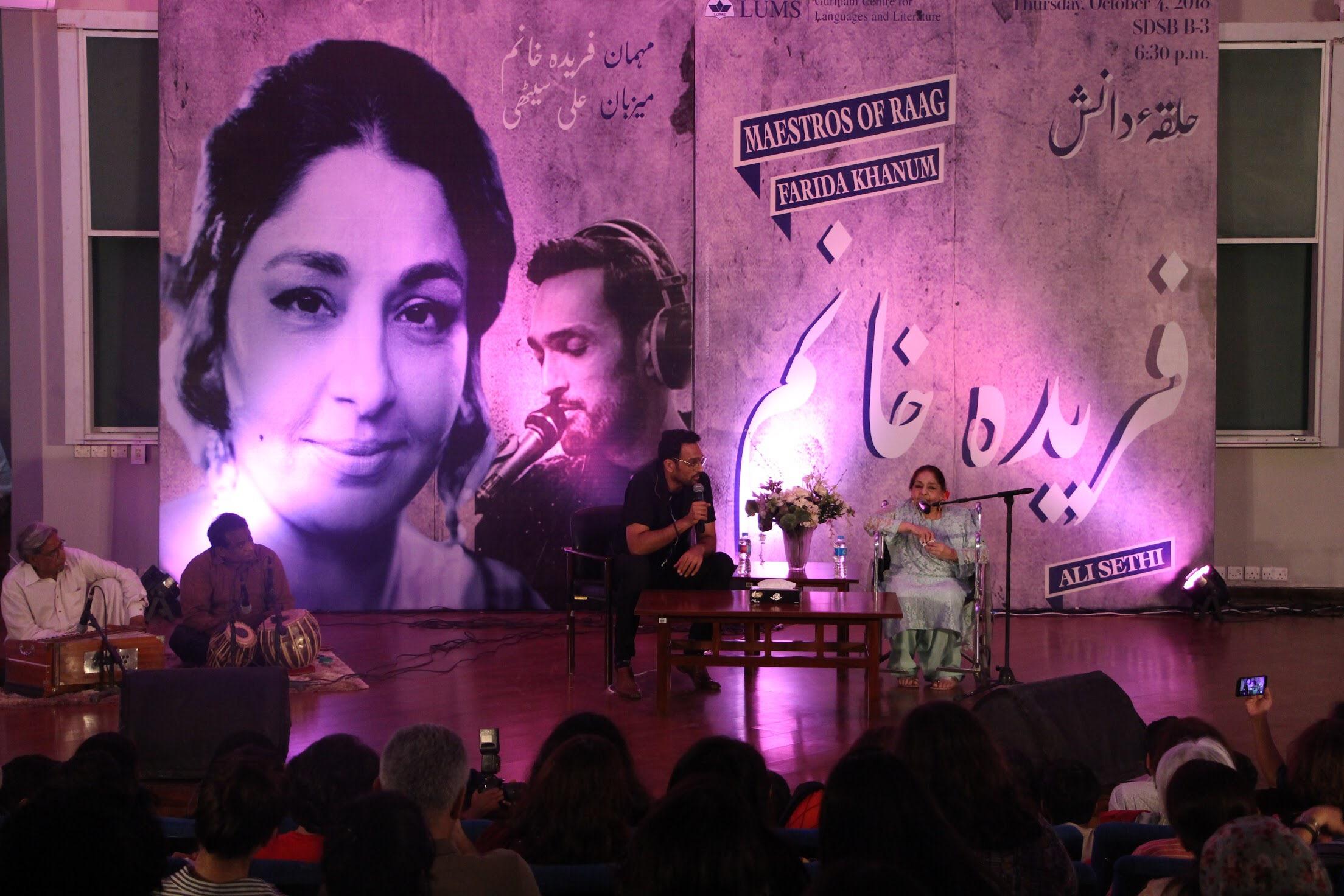 Yūnhī pehlū meiñ' an Evening with Farida Khanum and Ali Sethi at LUMS
"One of the qualities of great art," began Professor Bilal Tanweer, Co-Director Gurmani Centre for Languages and Literature, LUMS "is that we go to it not just for information, but to be transformed." And what a transformation the evening of October 4 was as the largest auditorium at LUMS was brimming with students, teachers, staff and guests as they waited anxiously for the stars of the evening, Madam Farida Khanum and Ali Sethi—the former being the guest of honour and the latter, the host. The Gurmani Center of Languages and Literature and Prof. Tanweer, in their efforts to bring arts and culture to LUMS organised this phenomenal event where the audience sang and swayed to great singing.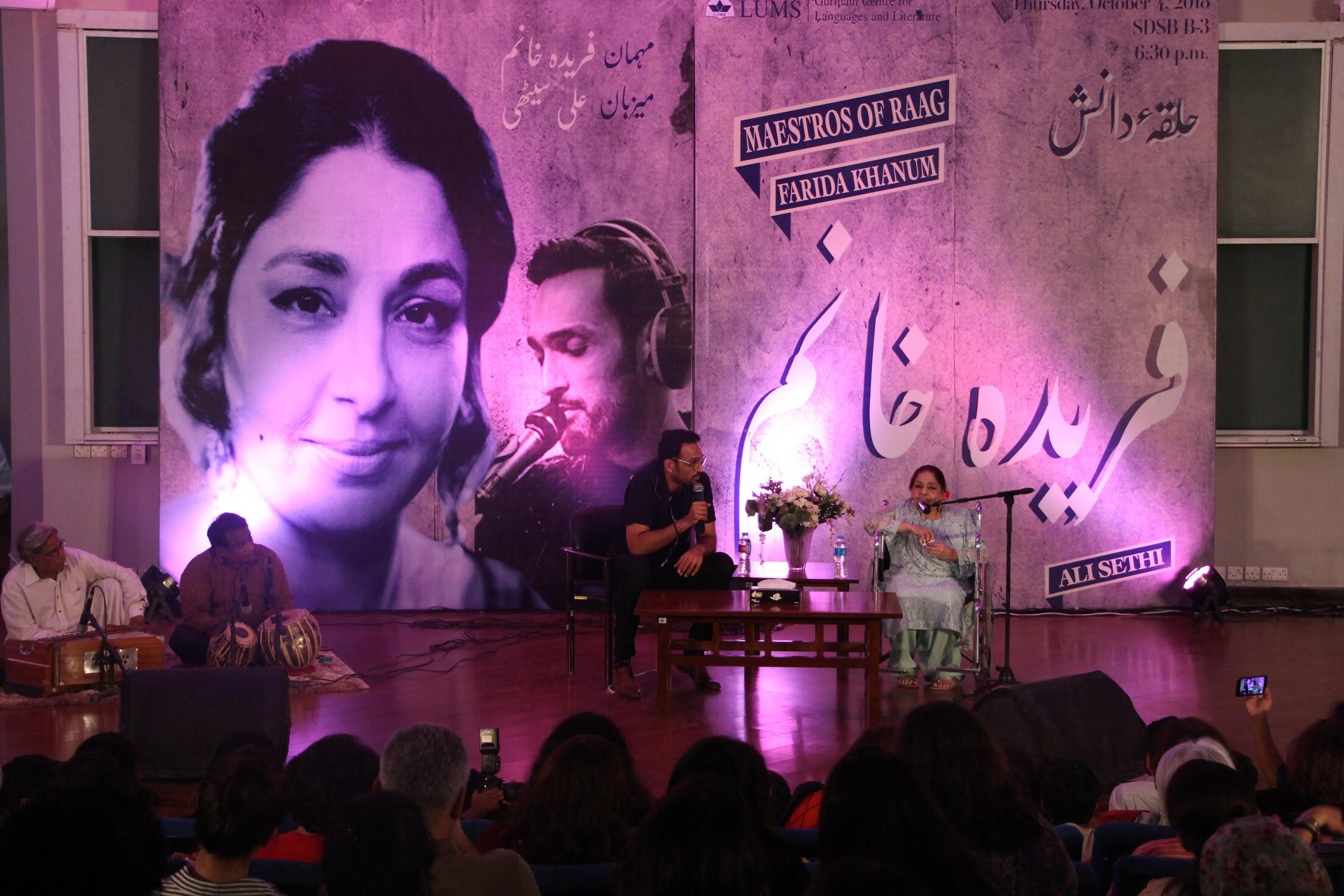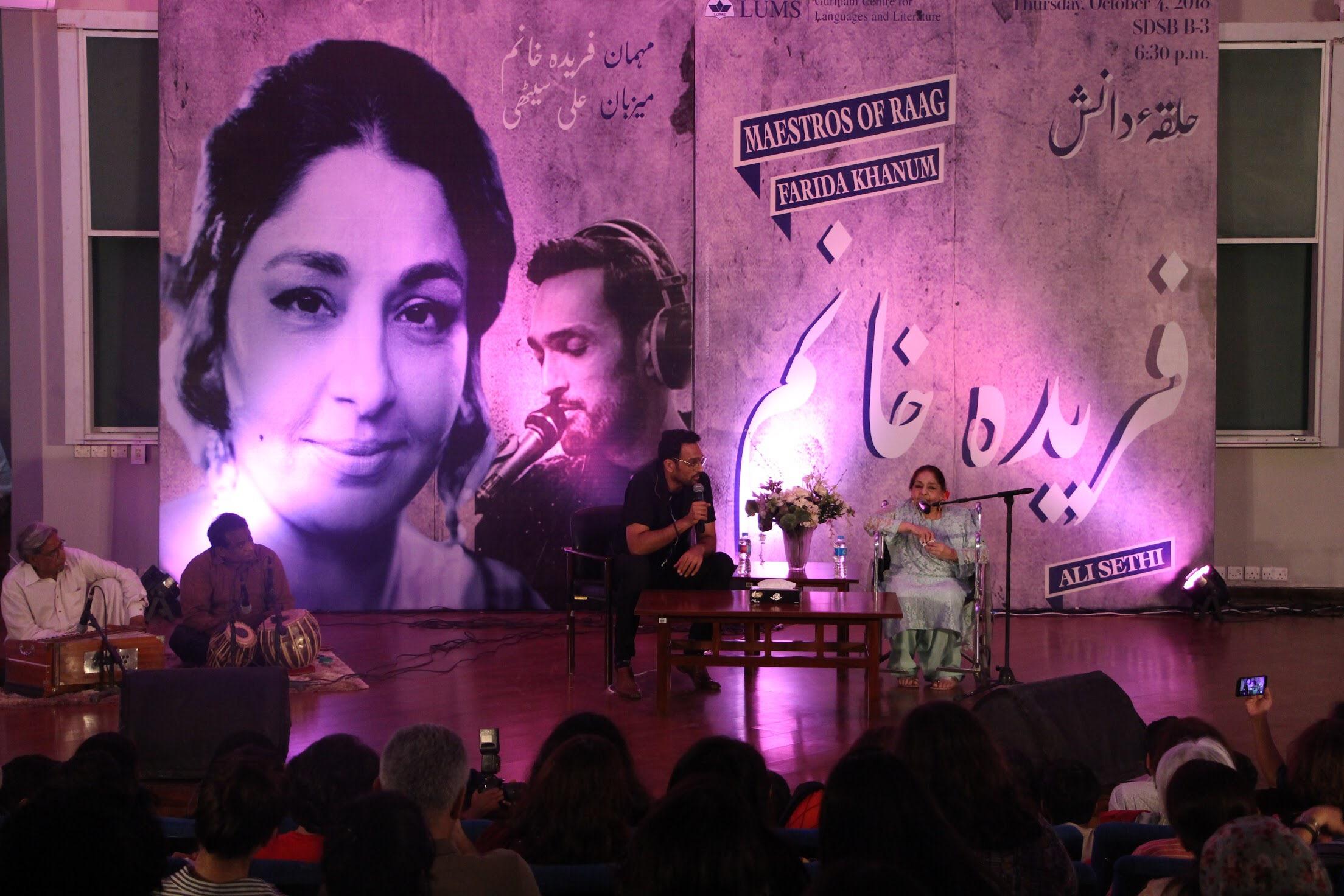 Prof. Tanweer began with a few lines on what great art does for us. This was followed by a screening of a black and white video of Ms. Khanum, which was taken from a 1974 TV programme by Zia Mohyeddin. The video shows him ushering in his guest, a young girl clad in a Sāṛī, with immaculate hair and makeup. She is timid and not too confident, and laughs at all of the hosts, Mr. Mohyeddin's jokes. They have a conversation about 'ghazal' as an art form and how it has been depreciating in quality, followed by a performance by Ms. Khanum. She begins to sing in the video and her voice mesmerised the audience. As Ms. Khanum was brought on stage in a wheelchair by a few members of her family as well as her former student, Ali Sethi, the audience gave her a standing ovation.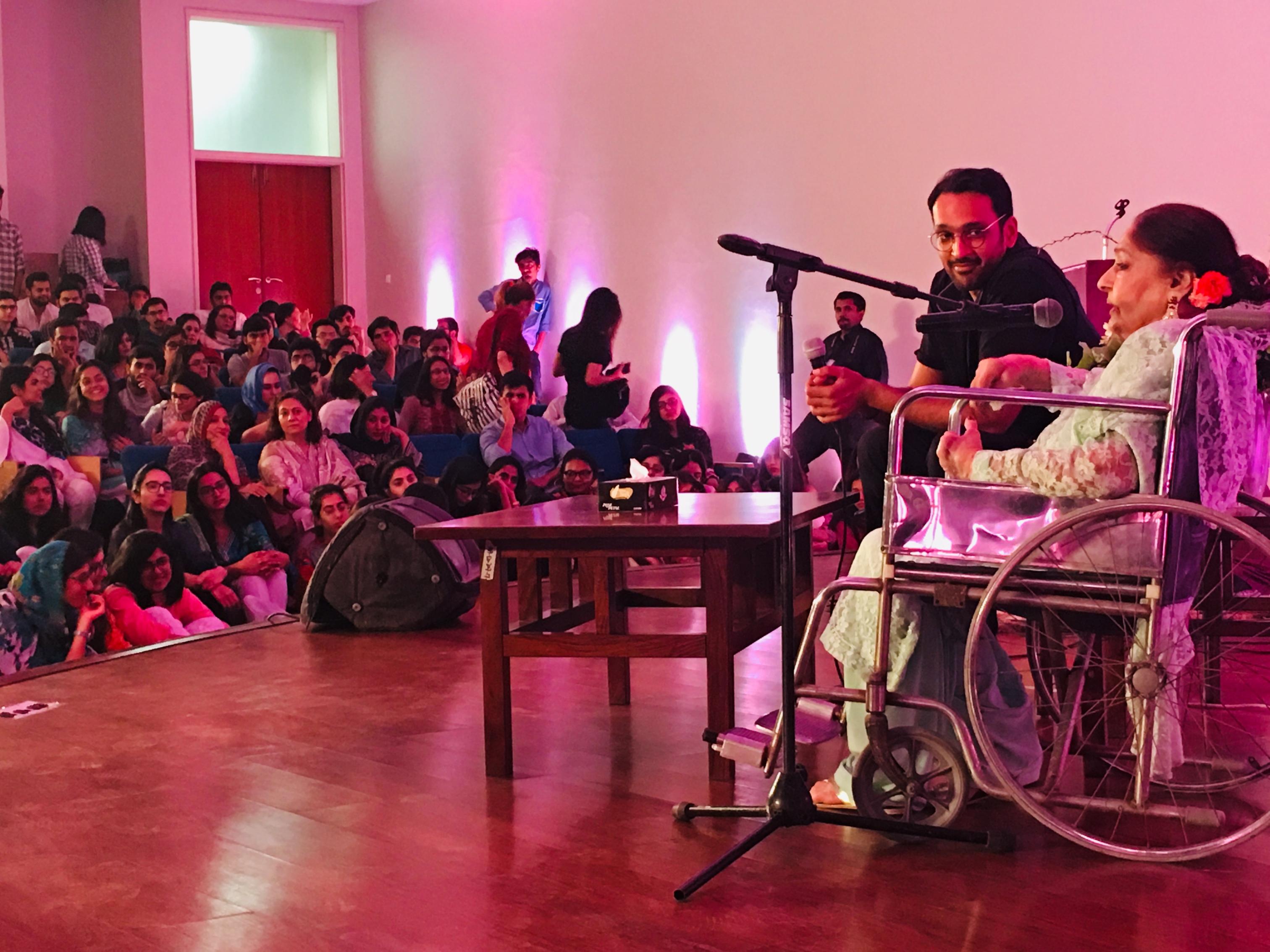 Ms. Khanum spoke about music and her passion and how music trends have changed over the years. "In this day and age, the music scene has changed. In our days, people would take out time and listen to ghazals with great joy, they had a passion for it. We learnt to value poetry and ghazals; we cared for it and still do."
"At times I would be driven by an urge to sing something before someone else could. The lyrics were so inspiring that I wanted to be the first to sing them!" she recalled. She explained how she began with Raag Darbārī because she already knew it, and that the sur of ghazal were soft, that they were easy to remember by heart. Mr. Sethi added that much of his learning has been from Ms. Khanum herself. "A listener said this to me once that when Farida Jī sings, time and space become blurred, it's the closest you come to a spiritual experience," shared Mr. Sethi.
Ms. Khanum was then asked to sing a few words. Also present on stage were Ustad Habib ur Rehman sahib on harmonium along with Khan sahib on tablā.  Both guests spoke about Faiz, and the ways in which these ghazals have not only moved many, but also at times provided a peak into history. The audience had the honour of experiencing live, Ms. Khanum's famous hits, 'Uzr Ānē meiñ bẖī, aur bulātay bhī nahī', as well as the legendary 'Muhabbat Karnē Wālay'. A few words of this song were also performed by Mr. Sethi, leaving the audience awestruck. The evening was concluded with questions and comments by members of the audience, and finally, a few words by Mr. Tanweer himself, who rightly said, "Such a transformative experience will perhaps never come to us again, and for this we are grateful."