IDC: Huawei continued to lead the Chinese smartphone market in Q1 as it became top vendor by shipments
IDC: Huawei continued to lead the Chinese smartphone market in Q1 as it became top vendor by shipments
Lahore May 17, 2017: According to the latest quarterly China mobile phone tracker report from International Data Corporation (IDC) on May 4, shipments in the Chinese smartphone market grew 0.8% year-over-year in the first quarter of 2017. Huawei delivered strong results with shipment of 20.8 million, up 25.5% from a year earlier and ranking No. 1 in the country.
The data show that in addition to Huawei's growth, shipments of OPPO and VIVO also increased but Apple, Xiaomi and other brands saw sales decline, among which Apple suffered the largest slump, down 26.7% year-over-year. IDC expects overall growth in the Chinese smartphone market in 2017 to be lower than in 2016, which saw growth of 8.6%. The first half of the year will see a flat trend and growth will pick up in the second half.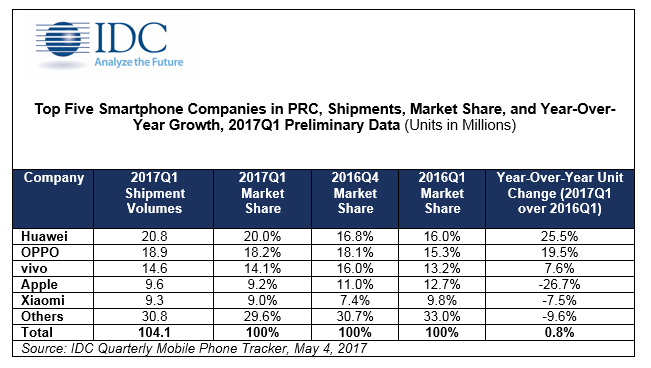 IDC believes cyclical changes led to the slowdown in China's smartphone market in the first quarter. Firstly, the overall market saw weakness in the quarter due to cyclicality, with the Spring Festival holiday season prompting a stagnation of shipments across channels. Secondly, as phone makers increased shipments in the fourth quarter of last year, pushing inventory to a higher level, in the first quarter they were actively cutting capacity and consequentially reduced new model launches. To clear inventory for upcoming Spring/Summer new product releases, vendors will digest existing models. Despite this, consumer demand for smartphones remains strong, especially for upgraded devices.
Huawei, the world's No.3 smartphone maker, maintained its dominance in the Chinese market with year-over-year growth of 25.5% thanks to the brand's stronghold in the mid-tier and high-end segments: it has consolidated its position in the premium market with offerings including the P-series and Mate-series. The IDC report shows the Honor sub-brand also delivered strong results in the middle market, with market share posting double-digit growth.
Against the backdrop of a slowdown in the smartphone market, the competitive landscape has seen competition intensify as consumers are showing robust demand for smartphones, especially for upgraded devices. To meet consumer demand, manufacturers are maintaining a rapid pace of product iterations and upgrades, continuing to step up marketing efforts, which are mainly reflected in the following aspects:
First, Chinese vendors are striving to disrupt the extant competitive landscape in the higher-end segment. Although Apple has been dominating the high-end market, tier-one domestic smartphone brands are rapidly increasing their market share in the premium segment. Chinese players can only gain advantages in future competition after securing a stable position in the middle- and high-end market.
Second, the rapid expansion of offline experience stores is now a key battleground. In the past year, top Chinese phone brands have paid more attention to offline channel expansion and been planning the construction of experience stores. For example, Huawei opened more than 1,000 brand experience stores in central business districts of key cities; OPPO is accelerating the rollout of flagship stores in select locations of tier-one and tier-two cities; and other vendors are also expanding offline experience stores.
IDC believes that as users pay more attention to brand experience, smartphone experience store should be more focused on how to build close relationships between brands and their users and provide those users with a variety of experience-based services.