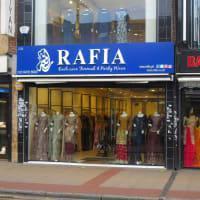 Rafia.pk Has Announced to Open its Outlet in Rawalpindi
Are you looking for the ready to wear classy and trendy clothes? If yes, then you have reached the right place. Good news for all the women out there in Rawalpindi, Rafia has announced to launch its new outlet in Rawalpindi. Now you do not have to rush into the market, collect fabric, get it stitched. You can visit Rafia and order the most fashionable Pakistani designer dresses.
Rafia offers you a variety of Pakistani designer clothes with high-quality fabric and clean stitching. This is a top-notch female clothing brand that is specializing in quality fabric and luxury pret. They offer you high street ready-to-wear and elegant formal dresses for parties and weddings. The clothes reflect both eastern and western culture. They have various collections of unstitched, formal wear, semi-formal wear, casual wear, kids wear, and abayas.
Rafia – Becoming a Success
There are different forms of success for any business. Different forms of expansion involve launching a new store on another location, adding more sales employees, increases marketing, and offering new products. Rafia has remarked its name in a small span and launching its new store in Rawalpindi. It is a great success for a newly launched clothing brand.
Besides following the market trends, Rafia also introduced new designs and cuts that are different from the market trends and look very classy on you. You must check their luxury pret for the wedding and formal wear. You are just one click away to get the hot-chic Pakistani designer dresses at low pricing.
Rafia- Eye-catching Products
Rafia also offers unstitched 3-piece suits. They offer seasonal vibrant color digital printed 3-piece suits just to make you look elegant and glamourous. They also have a digital jacquard collection that is very eye-catching and attractive. You cannot control yourself placing an order once you visit the website. The luxury pret is full of heavy embellishments and inexpensive.
How to Place The Order Online
Online shopping has made our lives much easier. It helps in saving time and energy. How it has become reliable to buy clothes online. Simply click on the chosen article and add it to the cart. Select your size and checkout. To solve all your problems, you must try Rafia, a newly launched Pakistani brand that is capturing the market trends and gives you the solution to never-ending complex problems in any woman's life.
Reliable Customer Service
All the products are on the website. You can also check the articles on Facebook, Instagram, and YouTube as well. For any queries, you can message on the website. The customer service representative is here to guide you. The size chart is also available on the website for your accessibility.
Free Delivery
The best part about Rafia is they are offering free delivery all over Pakistan. For international orders, shipping charges apply. So, hurry up, get the most ethnic and stylish Pakistani designer clothes, and look stylish.