TCL Holds Biggest FIFA18 Showdown Event in Lahore
– TCL, one of the leading players in the global TV industry and world's third largest LED TV manufacturers, held a Football Gaming Tournament at Packages Mall, Lahore. The main purpose of this event was to boost the passion of young football lovers by providing them with the best visual experience through TCL's unique LED smart TV's.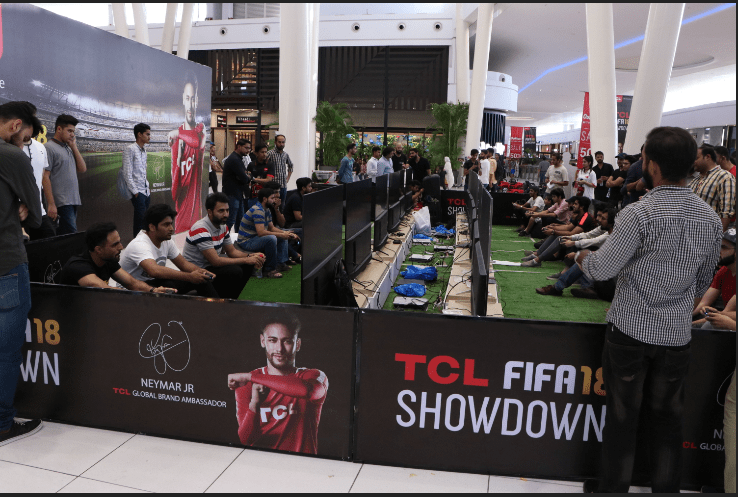 Over 1,000 gamers participated in the event showing their love and excitement for FIFA18 world cup. The event was an opportunity for gamers to participate and play on the latest TCL 4K Smart Televisions while enjoying a truly unique gaming experience. The tournament also had some exciting prizes for the winners including Neymar Jr. (TCL Global Brand Ambassador) merchandise, 4K UHD LED TVs and Cash Prizes.
While speaking on the occasion, Sunny Yang, GM TCL Pakistan shared her views stating, "Our goal is to make sure that our products provide a high technology, smart product experience to our users. Not only was the Gaming Showdown a chance to allow users to indulge in their passion for gaming and football, it was also an excellent opportunity to highlight our product experience for the public."
While talking about the success of the event, Majid Niazi, Marketing Manager TCL added, "We are really excited to see how well the event has gone. Sports Marketing is the cornerstone of TCL's global brand strategy, with Neymar Jr. being our brand ambassador, TCL will consistently support and promote such games in Pakistan. This event clearly shows the passion people have for football and TCL's contribution in providing the best visual gaming experience. We look forward to host further such events in the near future."
TCL is one of leading players in the Global Consumer Electronics industry with a global presence in over 150 countries. TCL has emerged as one of the Top 3 Leading LED TV Brands in Pakistan in 2017 with a particular focus in High End 4K UHD and Big Size TVs, in which it holds a significant market share.