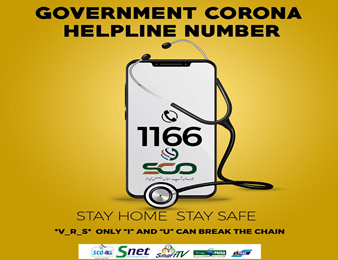 Coronavirus Hotline number announced toll-free for SCO subscribers
Special Communications Organization (SCO), one of the leading digital communications service providers in Azad Jammu & Kashmir (AJ&K) and Gilgit Baltistan (GB), has announced toll-free call to Coronavirus Hotline number for its subscribers to facilitate the preventive measures against the spread of the virus in the region. In cases of suspected Coronavirus symptoms or for any queries related to it, subscribers can dial 1166 for free from any SCOM number and receive necessary instructions from the healthcare authorities instantly.
The recent Coronavirus (COVID-19) outbreak has turned into a global crisis affecting more than 100 countries. Anticipating the probable impacts of the outbreak on the country, the Government has been taking necessary preparations and strengthened the preventive measures. Free access to this service will be available for as long as the coronavirus (COVID-19) remains prevalent in the AJ&K and GB.
As a socially responsible corporate organization, SCO take the Coronavirus situation very seriously and pledge to support the Government in preventing the outbreak.