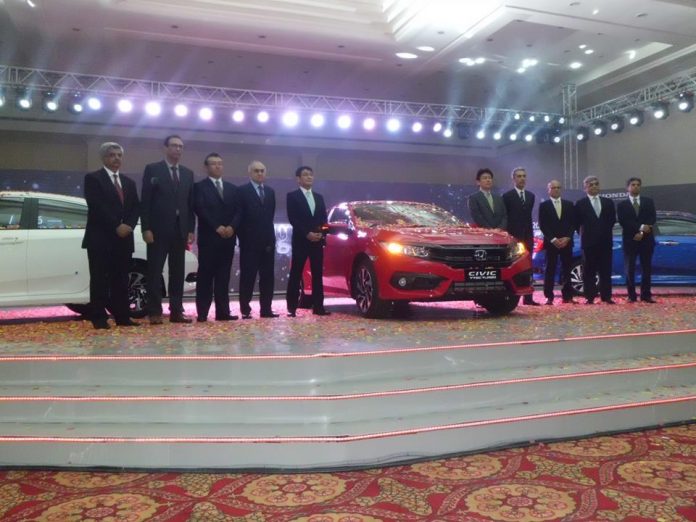 Honda Creates New Era With The Launch Of New Civic 2016
Lahore (PR) –Honda Atlas Cars Pakistan Limited has unleashed its most anticipated Honda Civic model. The All-New Civic was launched in Lahore at Faletti's Hotel. The 10th Generation Civic isavailable in 3 grades1.8L i-VTEC,1.8L i-VTEC Oriel and 1.8L VTEC TURBO.
Mr. Noriaki Abe, Chief Operating Officer, Regional Operations (Asia & Oceania), Honda Motor Co., Ltd. expressed his views saying that the Pakistan automobile market has tremendous potential to grow. He confidently said that all-new Civic 'made in Pakistan' will attract Pakistani customers with its innovative, elegant design and high performance.Mr. Takao Kimura, Civic Development Project Leader of Asia & Oceania, explainedin detail the technical specifications and design concept of all new Civic.Mr Nadeem Azam, GM Sales & Marketing introduced the new model and gave an overview of the car and highlighted the features of all three variants.Push Start, Continuously Variable Transmission (CVT), Electric Parking Brake (EPB), Auto Break Hold (ABH), SRS airbags, Vehicle Stability Assist (VSA), Hill Start Assist (HSA), Anti-Lock Braking System (ABS), Emergency Stop Signal (ESS), Immobilizer, Auto Climate Control System, Rear Entertainment system and Navigation System are some of the stand out features of the all new Honda Civic.VTEC Turbo engine is being introduced for the first time in Pakistanwith advance features such as Remote Engine Starter.Addressing the gathering Mr. ToichiIshiyama, President & CEO Honda Atlas Cars (Pakistan) Limitedtalked about the legacy of Honda and its contribution in the automobile industry. He said that Civic,since its introduction in Pakistan in 1994 had become a household name. It was the outcome of the joint efforts of 1200 dedicated associates working at Honda Atlas Cars (Pakistan) Limited.He also said that Pakistani car user's expectations of a sedan would never be the same again after the introduction of the all new Civic 2016, a car that will be 'Creating New Era'.The all new Honda Civic has set a new benchmark with its innovative features and futuristic design. The car will leave a lasting impression on the automobile industry of Pakistan.