Warid Doubles Free Minutes for Subscribers in New Offer
Warid Telecom, Pakistan's largest & growing LTE services provider, has introduced yet another exciting offer for postpaid customers. Now with "Double Bundle Offer", new Warid Postpaid customers, Port-in customers and subscribers switching from Warid Prepaid to Postpaid can enjoy double free minutes at no additional cost for 3 months.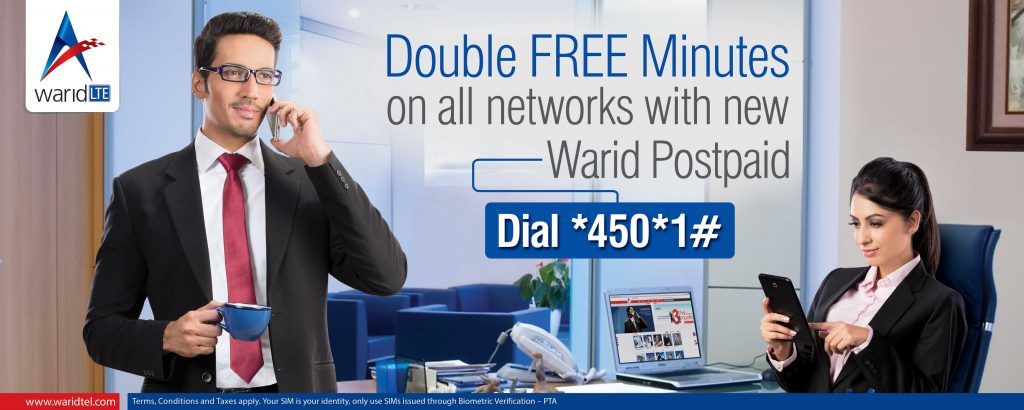 For example, subscribers on W500 plan enjoy 250 free on-net minutes and 250 free off-net minutes, but with double bundle offer customer can enjoy double the regular benefit by getting 500 free on-net minutes and 500 free off-net minutes. Most importantly, this offer is available at no additional cost, and same benefit will be provided every month for next 3 months. Customers can simply dial *450*1#, or send "Double" to 4000 to avail this offer.
Warid Telecom currently boasts largest postpaid& LTE customer base in Pakistan, with over 640,000 postpaid& 100,000 LTE customers. As the operator continues to offer a wide array of customer centric, reliable & quality services, this number continues to grow exponentially. 
Important Points:
Free minutes are equally split (50-50) between on-net and off-net
Offer is valid for three months only for one subscriber
Upon package change, offer will no longer remain valid
Subscriber can activate offer once after activation & may not change it later
Double Bundle can be continued upon monthly rental and deposit payment
Old acquisition offer, Free for 3, is also available to new subscribers
This offer is not available to corporate, existing postpaid& W4000 subscribers