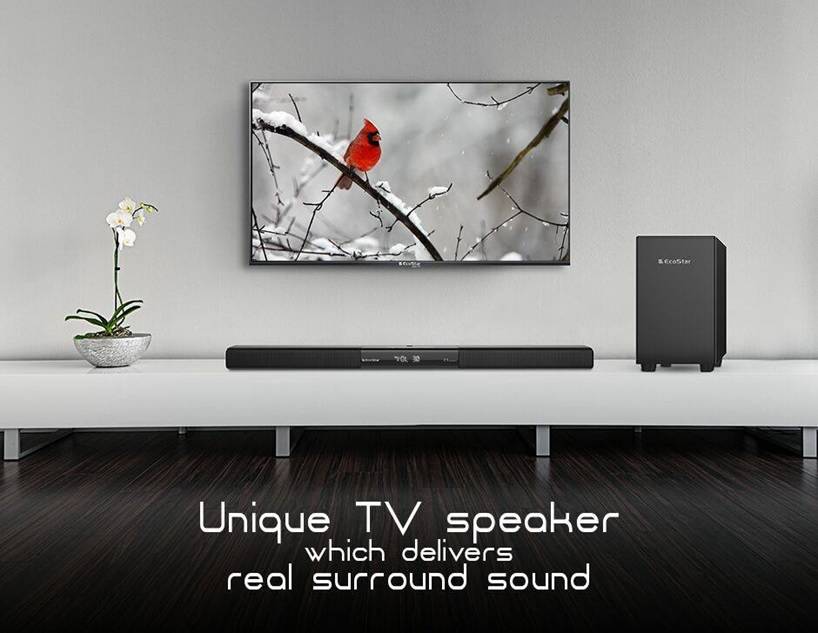 EcoStar SB-D700 Sound Bar – A Review of Real Experience
EcoStar SB-D700 Sound Bar – A Review of Real Experience
In the current era, there's no doubt about it, flat screen technology combines an action packed experience, HD resolution and artful designed LEDs. With most of the attention given to the video quality, some customer seeks for extra sound to fill their room completely.  In that case, the people who are looking for the ultimate home theatre effect often search for other devices which are purely for the sake of audio.
What is the EcoStar SB-D700 Sound Bar?
The SB-D700 is a unique TV sound bar which lends your LED with the much needed sonic support. It comes with a 6.5' wireless subwoofer, equipped with a touch control system and can be operated by Bluetooth, also contains USB port, and a 3.5mm AUX input. A stylish design, plentiful connections and easy setup gives a powerful sound quality. This speaker system also boasts HDMI ARC, Optical and Coaxial Input systems, whose power (RMS) is 50W+25W x2.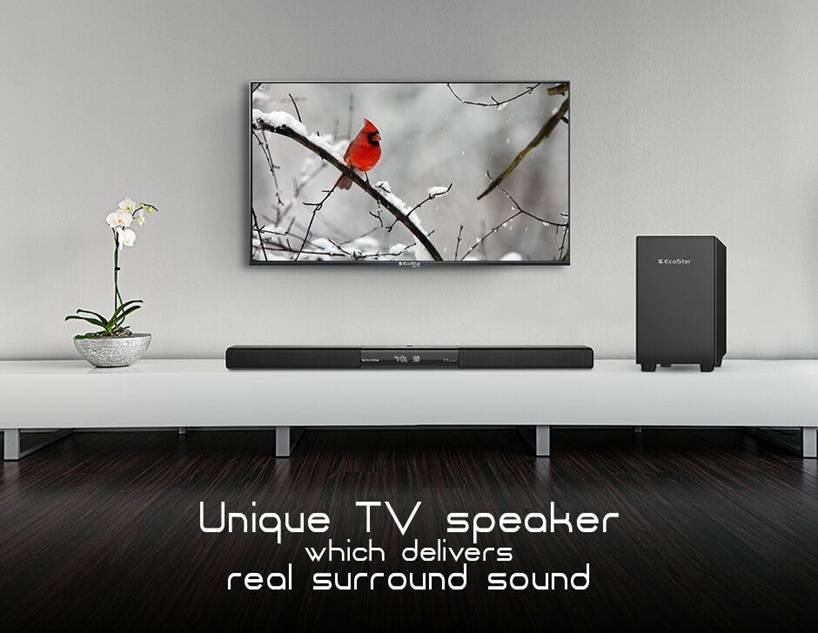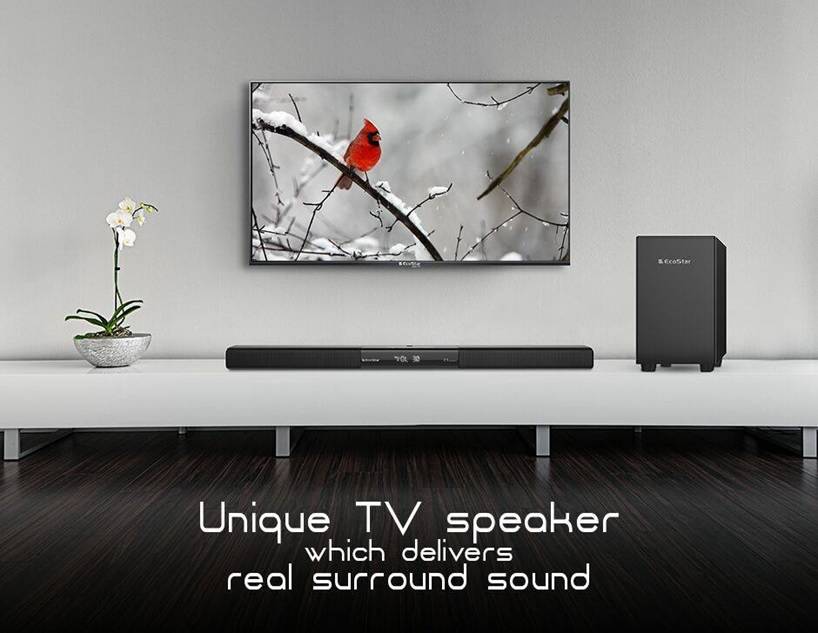 The Home Theatre Impact in a Box
This sound bar is all it takes for a proper cinematic sound experience. For high-quality audio without the hassle of a discrete system, this sound bar is the next best thing, very convincingly creating the impression that the sound field envelops you. Engaging, entertaining sound is complimented by a smooth and direct midrange, giving a convincing weight to voices. EcoStar Sound Bar loses none of its clarity as you change listening position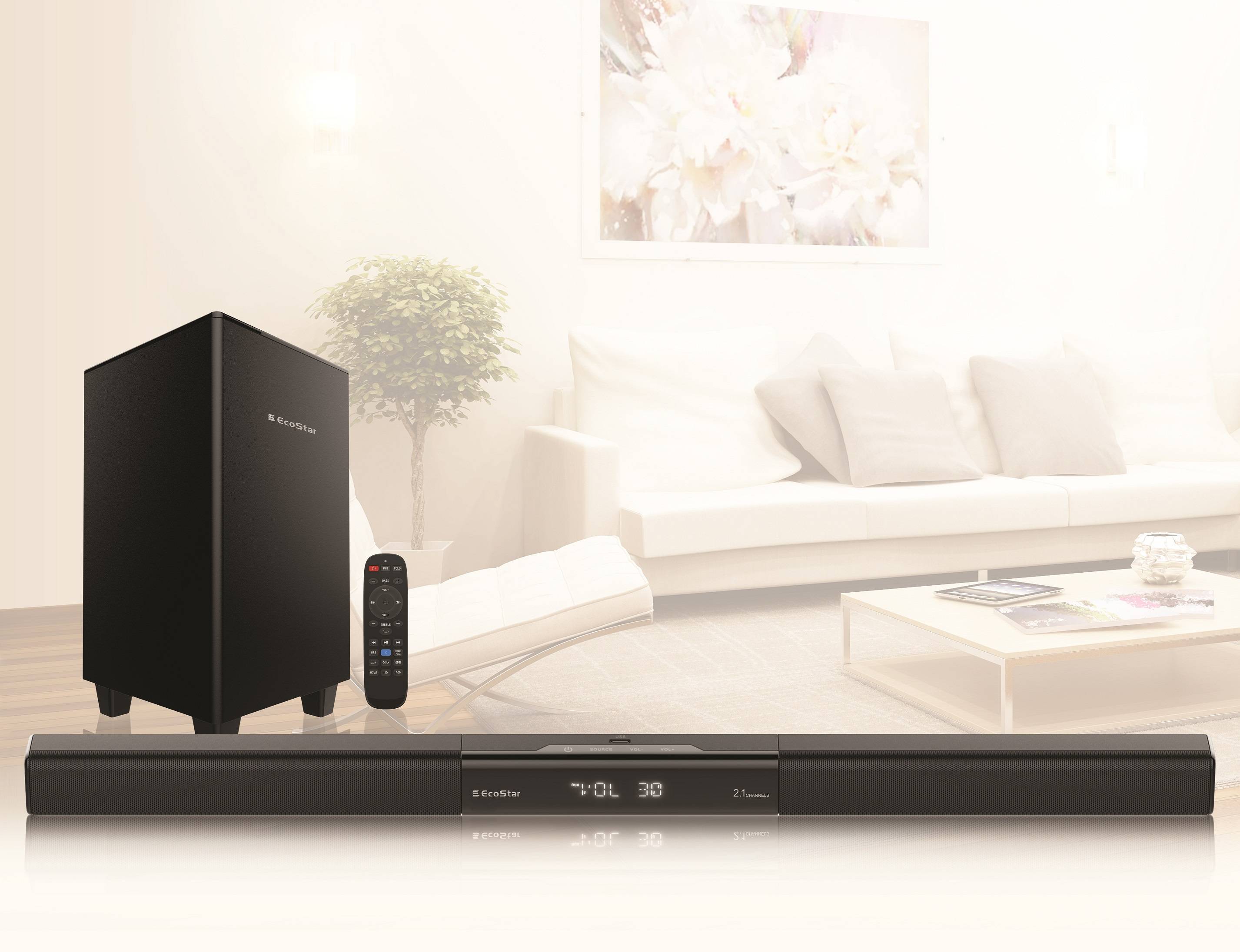 Getting a Sound Bar lets you achieve the full benefits of a full home theatre system, without all the problems that comes along with it. The sound bar is all it takes for a proper cinematic sound experience, without the hassle of a discrete system.
Instead of filling up most of the space by putting speakers all over a room, sound bars are designed in a sleek, attractive speaker panel like box. They can either be set up on a shelf or can be mounted on a wall. This avoids cluttering up your room with a wall rack for speakers and miles of wires.
Features & Performance
Considering that this is just a 6.5" subwoofer*1, USB & Bluetooth supported system which comes with a touch control, little did we know that we were in for a big surprise. On watching a few live concerts and action movies with the EcoStar SB-D700, the overall sound quality was just astounding. The system is extremely easy to set-up and the sleek sexy design of the sound bar makes it a perfect fit into any nook of your TV cabinet or any gap on the wall.
Performance
The SB-D700 makes the sound of music, television and movies crystal clear, balanced and highly-detailed, whereby making the overall sound experience powerful, spacious and entertaining.
The first thing which appealed to me was the range of the sound this sound bar covered. The SB-D700 isn't the biggest sound bar out there, but it was enough to cover the size of a hall three times the size of an average room, but the bar had no problem filling it. Not just the range of the sound, but it's precise stereo effect too as well as the power and energy. Soundstage was so wide and tall that it was hard to believe there were no other speakers in the room.