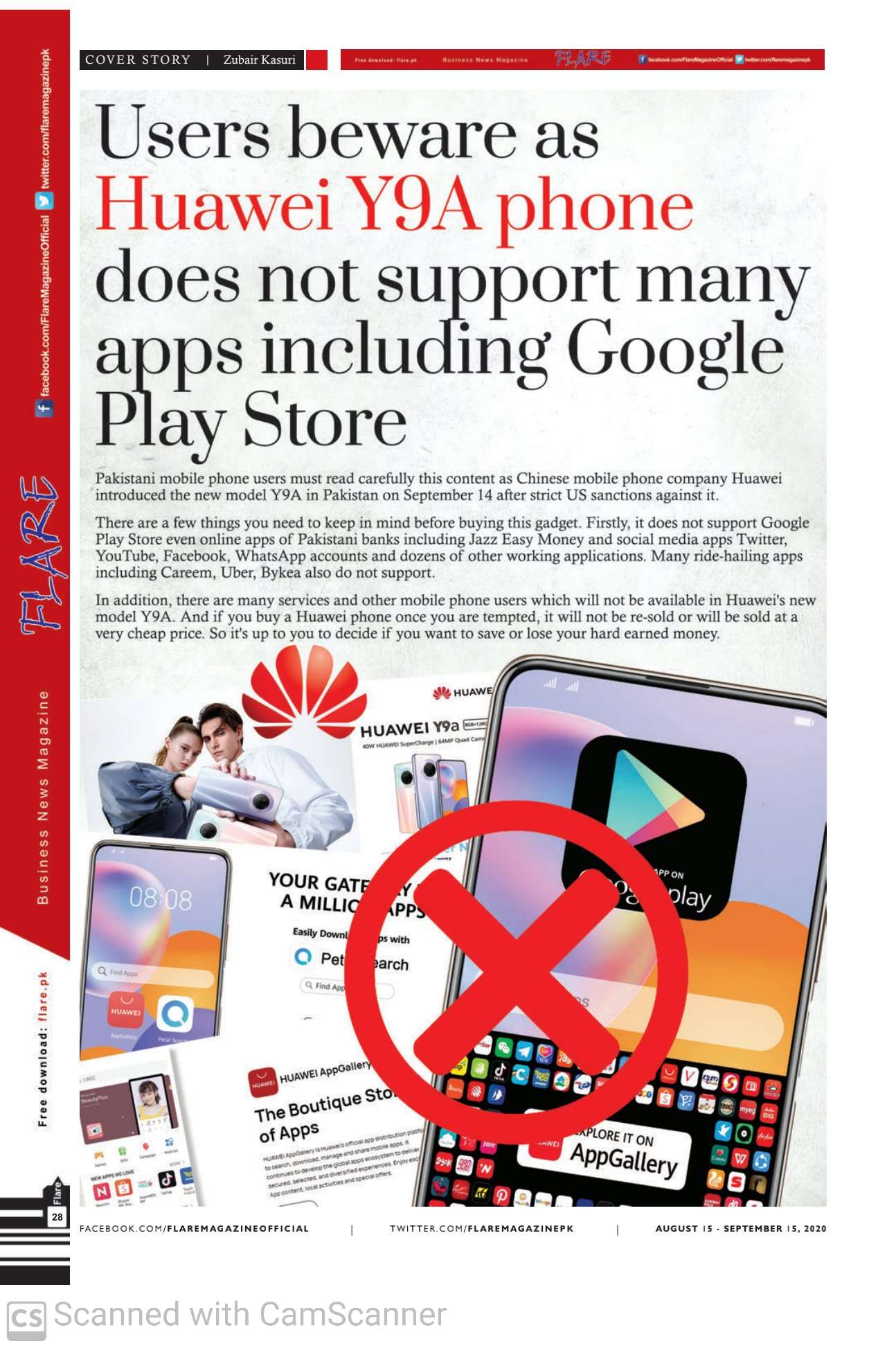 Users beware as Huawei Y9A phone does not support many apps including Google Play Store
Users beware as the Huawei Y9A phone does not support many apps including Google Play Store
Pakistani mobile phone users must read carefully this content as Chinese mobile phone
company Huawei introduced the new model Y9A in Pakistan on September 14 after strict US
sanctions against it.
There are a few things you need to keep in mind before buying this gadget. Firstly, it does not
support Google Play Store even online apps of Pakistani banks including Jazz Easy Money and
social media apps Twitter, YouTube, Facebook, WhatsApp accounts and dozens of other
working applications. Many ride-hailing apps including Careem, Uber, Bykea also do not
support.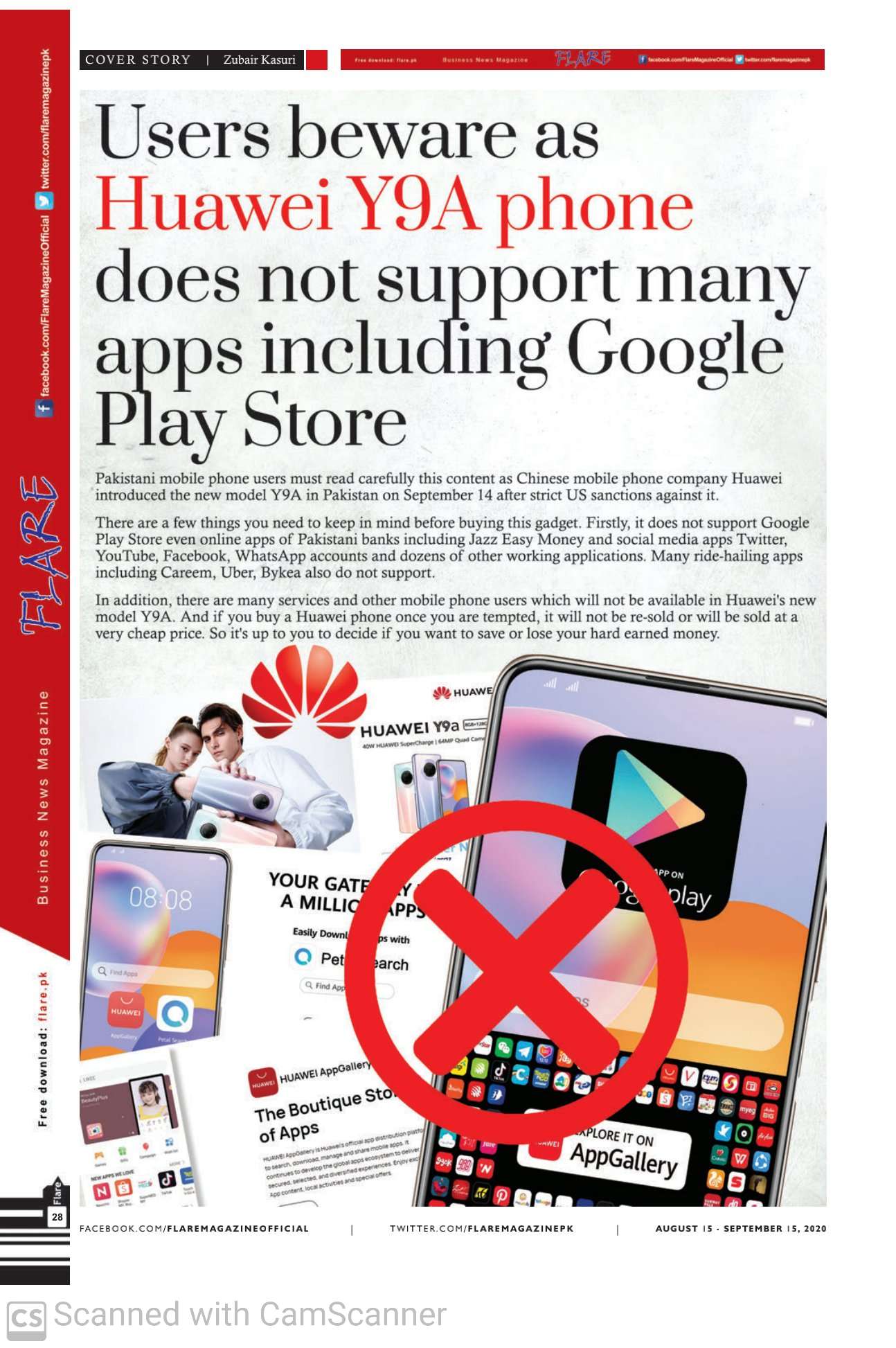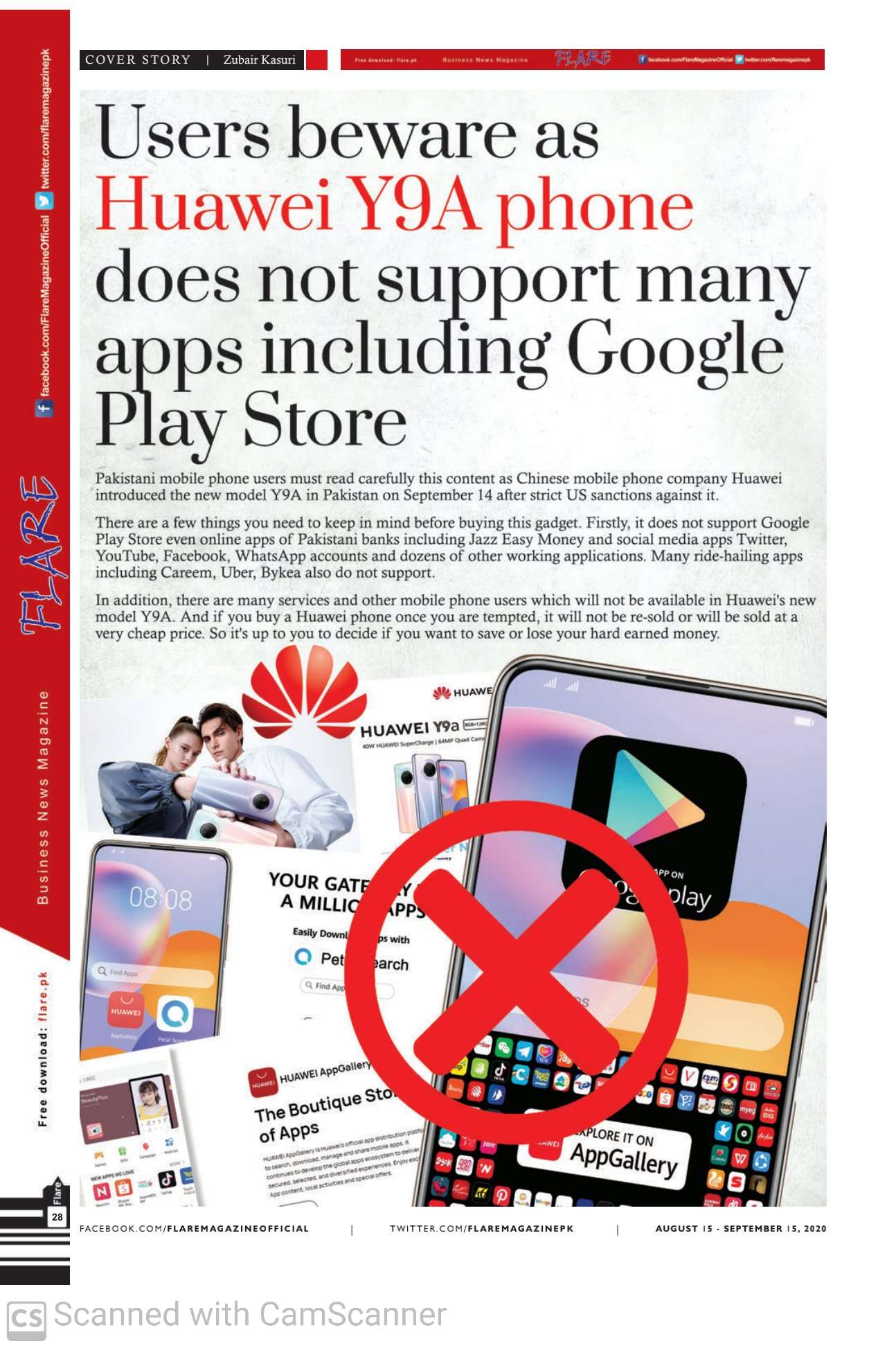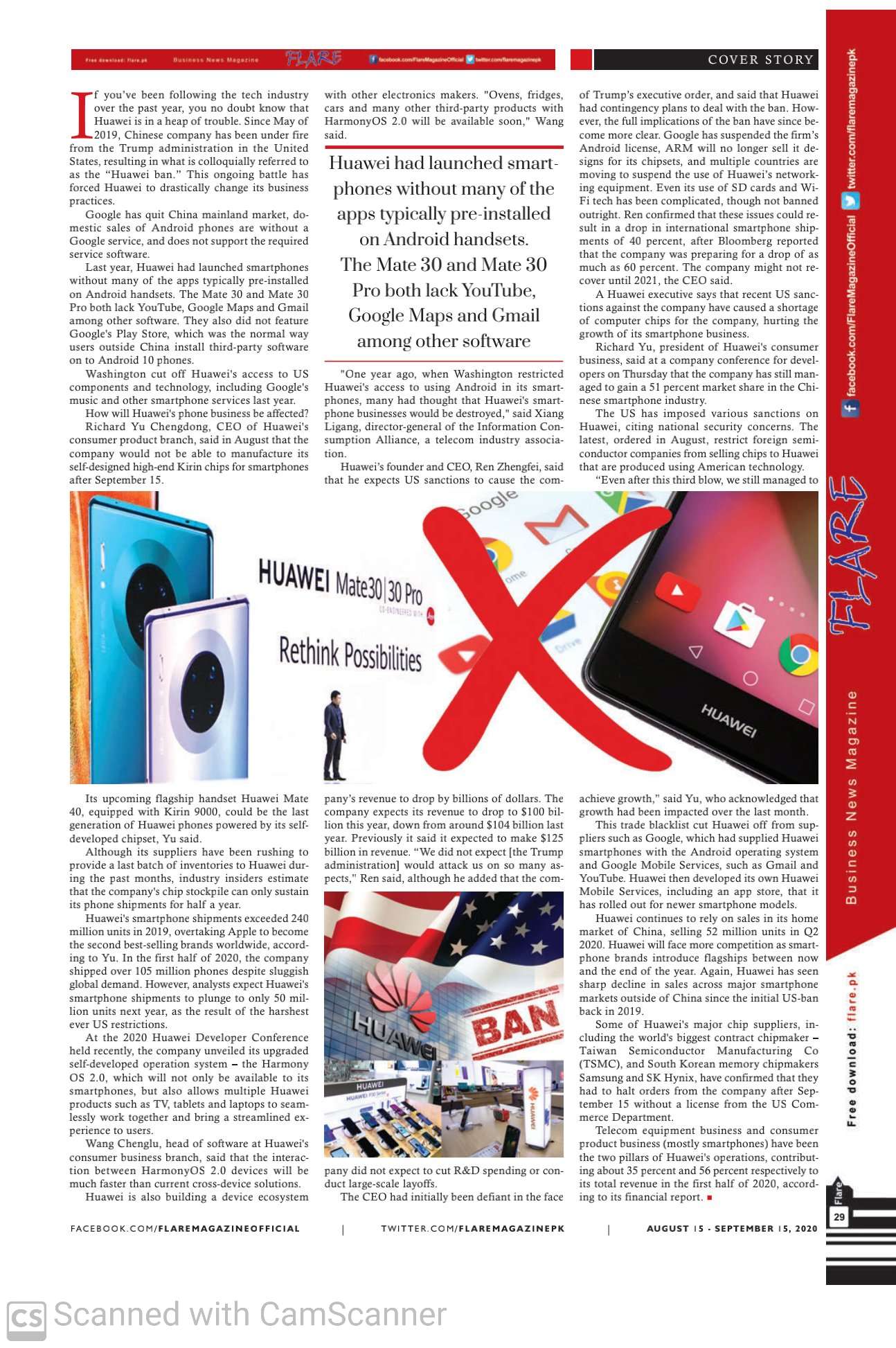 In addition, there are many services and other mobile phone users which will not be available in
Huawei's new model Y9A. And if you buy a Huawei phone once you are tempted, it will not be
re-sold or will be sold at a very cheap price. So it's up to you to decide if you want to save or
lose your hard-earned money.
Box
Huawei had launched smartphones without many of the apps typically pre-installed on Android
handsets. The Mate 30 and Mate 30 Pro both lack YouTube, Google Maps, and Gmail among
other software
If you've been following the tech industry over the past year, you no doubt know that Huawei
is in a heap of trouble. Since May of 2019, a Chinese company has been under fire from the
Trump administration in the United States, resulting in what is colloquially referred to as the
"Huawei ban." This ongoing battle has forced Huawei to drastically change its business
practices.
Google has quit China mainland market, domestic sales of Android phones are without a
Google service, and does not support the required service software.
Last year, Huawei had launched smartphones without many of the apps typically pre-installed
on Android handsets. The Mate 30 and Mate 30 Pro both lack YouTube, Google Maps and
Gmail among other software. They also did not feature Google's Play Store, which was the
normal way users outside China install third-party software on Android 10 phones.
Washington cut off Huawei's access to US components and technology, including Google's
music and other smartphone services last year.
How will Huawei's phone business be affected?
Richard Yu Chengdong, CEO of Huawei's consumer product branch, said in August that the
the company would not be able to manufacture its self-designed high-end Kirin chips for
smartphones after September 15.
Its upcoming flagship handset Huawei Mate 40, equipped with Kirin 9000, could be the last
generation of Huawei phones powered by its self-developed chipset, Yu said.
Although its suppliers have been rushing to provide a last batch of inventories to Huawei during
the past months, industry insiders estimate that the company's chip stockpile can only sustain its
phone shipments for half a year.
Huawei's smartphone shipments exceeded 240 million units in 2019, overtaking Apple to
become the second best-selling brands worldwide, according to Yu. In the first half of 2020, the
company shipped over 105 million phones despite sluggish global demand. However, analysts
expect Huawei's smartphone shipments to plunge to only 50 million units next year, as the
result of the harshest ever US restrictions.
At the 2020 Huawei Developer Conference held recently, the company unveiled its upgraded
self-developed operation system – the Harmony OS 2.0, which will not only be available to its
smartphones, but also allows multiple Huawei products such as TV, tablets, and laptops to
seamlessly work together and bring a streamlined experience to users.
Wang Chengdu, head of software at Huawei's consumer business branch, said that the
interaction between HarmonyOS 2.0 devices will be much faster than current cross-device
solutions.
Huawei is also building a device ecosystem with other electronics makers. "Ovens, fridges, cars
and many other third-party products with HarmonyOS 2.0 will be available soon," Wang said.
"One year ago, when Washington restricted Huawei's access to using Android in its
smartphones, many had thought that Huawei's smartphone businesses would be destroyed," said
Xiang Ligang, director-general of the Information Consumption Alliance, a telecom industry
association.
Huawei's founder and CEO, Ren Zhengfei, said that he expects US sanctions to cause the
company's revenue to drop by billions of dollars. The company expects its revenue to drop to
$100 billion this year, down from around $104 billion last year. Previously it said it expected to
make $125 billion in revenue. "We did not expect [the Trump administration] would attack us
on so many aspects," Ren said, although he added that the company did not expect to cut R&D
spending or conduct large-scale layoffs.
The CEO had initially been defiant in the face of Trump's executive order and said that
Huawei had contingency plans to deal with the ban. However, the full implications of the ban
have since become more clear. Google has suspended the firm's Android license, the ARM will no
longer sell it designs for its chipsets, and multiple countries are moving to suspend the use of
Huawei's networking equipment. Even its use of SD cards and Wi-Fi tech has been
complicated, though not banned outright. Ren confirmed that these issues could result in a drop
in international smartphone shipments of 40 percent after Bloomberg reported that the
company was preparing for a drop of as much as 60 percent. The company might not recover
until 2021, the CEO said.
A Huawei executive says that recent US sanctions against the company have caused a shortage
of computer chips for the company, hurting the growth of its smartphone business.
Richard Yu, president of Huawei's consumer business, said at a company conference for
developers on Thursday that the company has still managed to gain a 51 percent market share in
the Chinese smartphone industry.
The US has imposed various sanctions on Huawei, citing national security concerns. The latest,
ordered in August, restrict foreign semiconductor companies from selling chips to Huawei that
are produced using American technology.
"Even after this third blow, we still managed to achieve growth," said Yu, who acknowledged
that growth had been impacted over the last month.
This trade blacklist cut Huawei off from suppliers such as Google, which had supplied Huawei
smartphones with the Android operating system and Google Mobile Services, such as Gmail
and YouTube. Huawei then developed its own Huawei Mobile Services, including an app store,
that it has rolled out for newer smartphone models.
Huawei continues to rely on sales in its home market of China, selling 52 million units in Q2
2020. Huawei will face more competition as smartphone brands introduce flagships between
now and the end of the year. Again, Huawei has seen a sharp decline in sales across major
smartphone markets outside of China since the initial US-ban back in 2019.
Some of Huawei's major chip suppliers, including the world's biggest contract chipmaker –
Taiwan Semiconductor Manufacturing Co (TSMC), and South Korean memory chipmakers
Samsung and SK Hynix, have confirmed that they had to halt orders from the company after
September 15 without a license from the US Commerce Department.
Telecom equipment business and consumer product business (mostly smartphones) have been
the two pillars of Huawei's operations, contributing about 35 percent and 56 percent
respectively to its total revenue in the first half of 2020, according to its financial report.