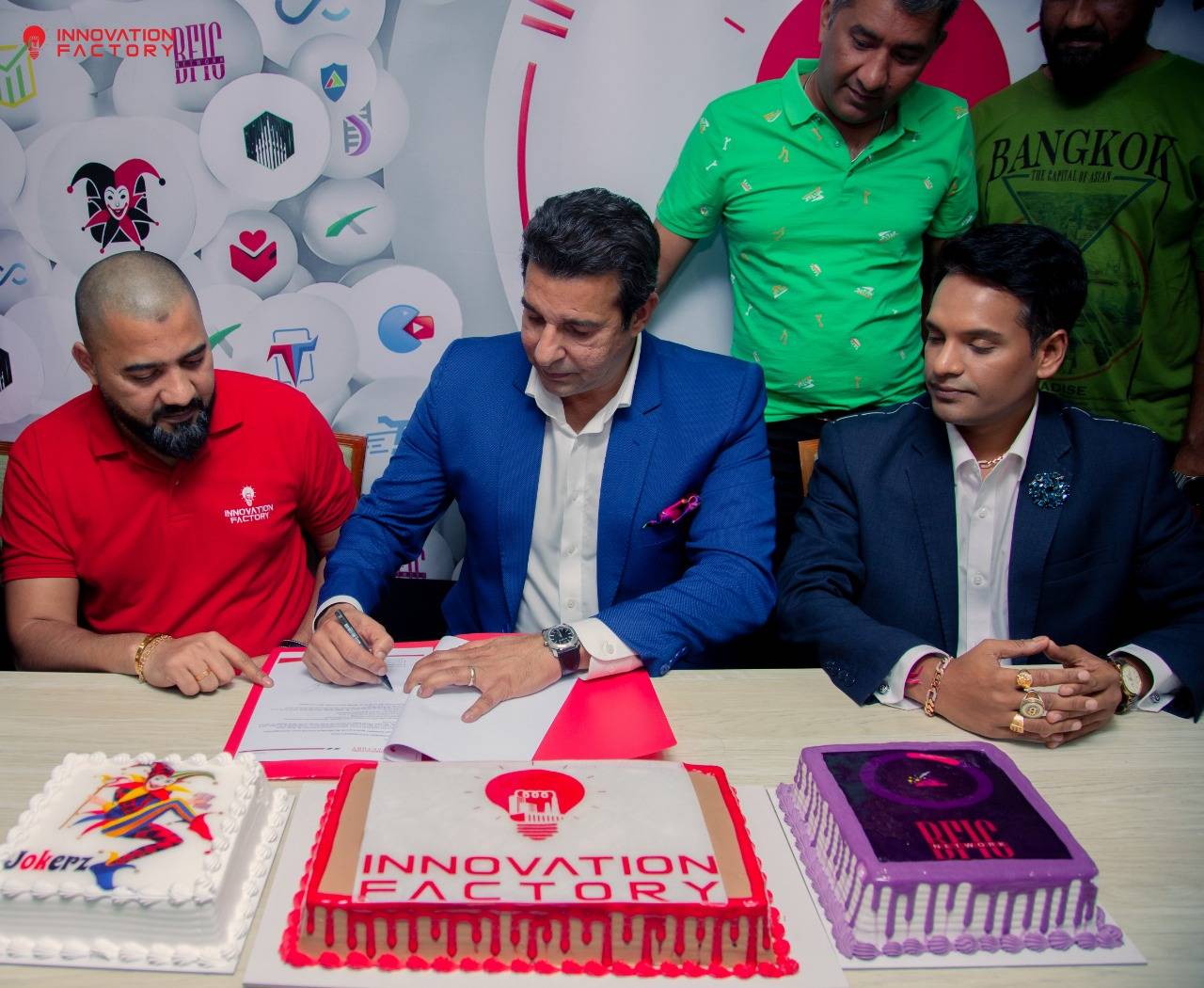 Wasim Akram Appointed as the Brand Ambassador of Innovation Factory
Innovation Factory Royal Investment Group, appointed the
international cricket star & legend Mr. Waseem Akram as the international brand
ambassador of Innovation Factory.
The ceremony took place at Innovation Factory's head office in Dubai. Mr. Waseem
Akram, Mr. Omer Khan (founder), Mr. Rana (co-founder) and Mr. Nawal (CEO)
signed the memo in presence of a fine media coverage from around the globe.
After the signing ceremony, Innovation Factory's management along with Mr.
Waseem Akram announced the launch of three upcoming utility projects of
Innovation Factory. Customized cakes designed for each project were cut to iconize
the event of this announcement.
Mr. Wasim Akram, expressed his excitement on the collaboration, and stated:
"Pleased to shake hands with Innovation factory, as it strives to bring in the much-
desired change, understanding that Ideas and innovation are the most precious
currency in the upcoming times."
Commenting on the affiliation, Mr. Omar Khan (Founder) said:
"We are delighted to collaborate with Mr. Wasim Akram, a world-famous personality,
as the face of this new-age solution providing firm. His zeal for evolution and deep
connection with people will enable us to inspire a larger community and drive the
adoption of smart innovations amongst them."
The CEO of Innovation factory, Mr. Nawal Kishor further added:
"Wasim has always endeavored hard work & achievement and is perfect to
exemplify creativity and optimism. Wasim witnessed the evolution from black and
white Tv all the way to OTT platforms, and fiat to digital (Crypto) currency in his
decades long experience and understands the value of progression"
Mr. Rana Saqib, COO expressed:
"We are ecstatic to have him on board to help spread the message of Unity, team
work and the importance of Dedication."
The event was a major milestone achievement in Innovation Factory's journey
towards establishing its worldwide community. Together with an international star on
board, the management of Innovation Factory seemed confident as ever that they'll
achieve the broader vision of bringing prosperity and accessibility of technology to
the masses around the globe.
About Innovation Factory
Innovation Factory is an IT firm that focuses on blockchain based solutions. The
company has designed an entire ecosystem to bring everyday users closer to the
technological advancement brought about by blockchain tech. The ecosystem
comprises of a number of unique digital solutions/utilities that enhance the lifestyle of
its users and enables them to thrive for an improved state of life.