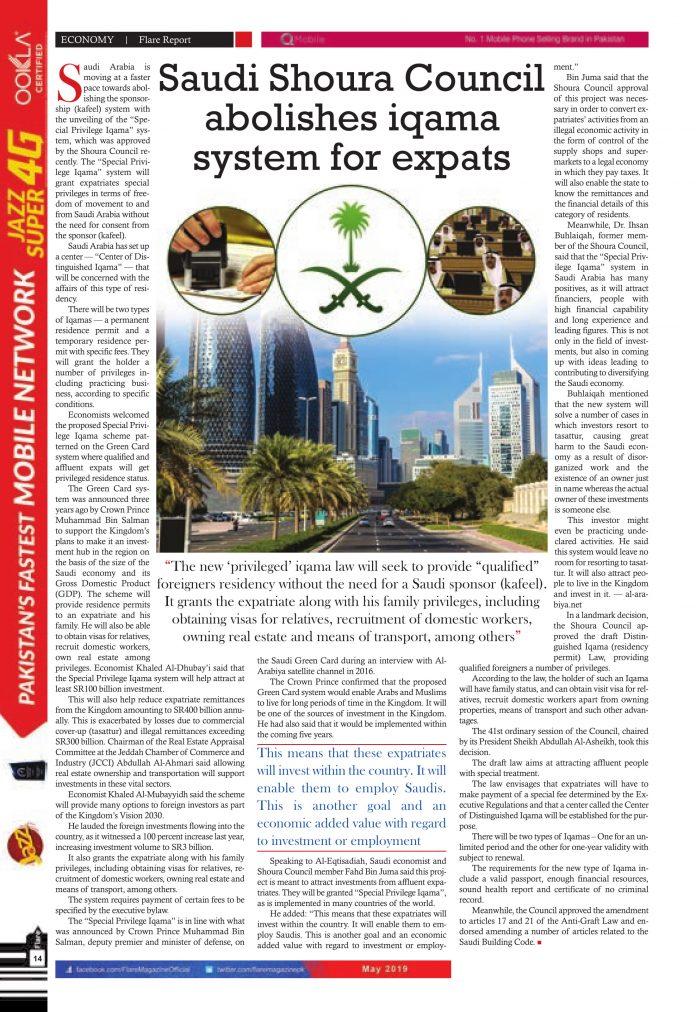 "The new 'privileged' iqama law will seek to provide "qualified" foreigners residency without the need for a Saudi sponsor (kafeel). It grants the expatriate along with his family privileges, including obtaining visas for relatives, recruitment of domestic workers, owning real estate and means of transport, among others"
This means that these expatriates will invest within the country. It will enable them to employ Saudis. This is another goal and an
economic added value with regard to investment or employment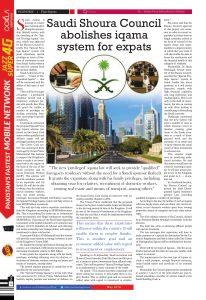 Saudi Arabia is moving at a faster pace towards abolishing the sponsorship (kafeel) system with the unveiling of the "Special Privilege Iqama" system, which was approved by the Shoura Council recently. The "Special Privilege Iqama" system will grant expatriates special privileges in terms of freedom of movement to and from Saudi Arabia without the need for consent from the sponsor (kafeel).
Saudi Arabia has set up a center — "Center of Distinguished Iqama" — that will be concerned with the affairs of this type of residency.
There will be two types of Iqamas — a permanent residence permit and a temporary residence permit with specific fees. They will grant the holder a number of privileges including practicing business, according to specific conditions.
Economists welcomed the proposed Special Privilege Iqama scheme patterned on the Green Card system where qualified and affluent expats will get privileged residence status.
The Green Card system was announced three years ago by Crown Prince Muhammad Bin Salman to support the Kingdom's plans to make it an investment hub in the region on the basis of the size of the Saudi economy and its Gross Domestic Product (GDP). The scheme will provide residence permits to an expatriate and his family. He will also be able to obtain visas for relatives, recruit domestic workers, own real estate among privileges. Economist Khaled Al-Dhubay'i said that the Special Privilege Iqama system will help attract at least SR100 billion investment.
This will also help reduce expatriate remittances from the Kingdom amounting to SR400 billion annually. This is exacerbated by losses due to commercial cover-up (tasattur) and illegal remittances exceeding SR300 billion. Chairman of the Real Estate Appraisal Committee at the Jeddah Chamber of Commerce and Industry (JCCI) Abdullah Al-Ahmari said allowing real estate ownership and transportation will support investments in these vital sectors.
Economist Khaled Al-Mubayyidh said the scheme will provide many options to foreign investors as part of the Kingdom's Vision 2030.
He lauded the foreign investments flowing into the country, as it witnessed a 100 percent increase last year, increasing investment volume to SR3 billion.
It also grants the expatriate along with his family privileges, including obtaining visas for relatives, recruitment of domestic workers, owning real estate and means of transport, among others.
The system requires payment of certain fees to be specified by the executive bylaw.
The "Special Privilege Iqama" is in line with what was announced by Crown Prince Muhammad Bin Salman, deputy premier and minister of defense, on the Saudi Green Card during an interview with Al-Arabiya satellite channel in 2016.
The Crown Prince confirmed that the proposed Green Card system would enable Arabs and Muslims to live for long periods of time in the Kingdom. It will be one of the sources of investment in the Kingdom. He had also said that it would be implemented within the coming five years.
Speaking to Al-Eqtisadiah, Saudi economist and Shoura Council member Fahd Bin Juma said this project is meant to attract investments from affluent expatriates. They will be granted "Special Privilege Iqama", as is implemented in many countries of the world.
He added: "This means that these expatriates will invest within the country. It will enable them to employ Saudis. This is another goal and an economic added value with regard to investment or employment."
Bin Juma said that the Shoura Council approval of this project was necessary in order to convert expatriates' activities from an illegal economic activity in the form of control of the supply shops and supermarkets to a legal economy in which they pay taxes. It will also enable the state to know the remittances and the financial details of this category of residents.
Meanwhile, Dr. Ihsan Buhlaiqah, former member of the Shoura Council, said that the "Special Privilege Iqama" system in Saudi Arabia has many positives, as it will attract financiers, people with high financial capability and long experience and leading figures. This is not only in the field of investments, but also in coming up with ideas leading to contributing to diversifying the Saudi economy.
Buhlaiqah mentioned that the new system will solve a number of cases in which investors resort to tasattur, causing great harm to the Saudi economy as a result of disorganized work and the existence of an owner just in name whereas the actual owner of these investments is someone else.
This investor might even be practicing undeclared activities. He said this system would leave no room for resorting to tasattur. It will also attract people to live in the Kingdom and invest in it. — al-arabiya.net
In a landmark decision, the Shoura Council approved the draft Distinguished Iqama (residency permit) Law, providing qualified foreigners a number of privileges.
According to the law, the holder of such an Iqama will have family status, and can obtain visit visa for relatives, recruit domestic workers apart from owning properties, means of transport and such other advantages.
The 41st ordinary session of the Council, chaired by its President Sheikh Abdullah Al-Asheikh, took this decision.
The draft law aims at attracting affluent people with special treatment.
The law envisages that expatriates will have to make payment of a special fee determined by the Executive Regulations and that a center called the Center of Distinguished Iqama will be established for the purpose.
There will be two types of Iqamas – One for an unlimited period and the other for one-year validity with subject to renewal.
The requirements for the new type of Iqama include a valid passport, enough financial resources, sound health report and certificate of no criminal record.
Meanwhile, the Council approved the amendment to articles 17 and 21 of the Anti-Graft Law and endorsed amending a number of articles related to the Saudi Building Code.