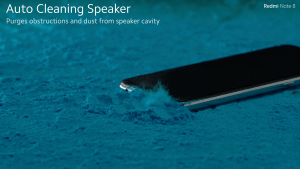 Hey Mi Fans and Lovers!
With the launch of Redmi Note 8 and Note 8 Pro, Xiaomi has just astonished the whole market and its fans. Recent launch of 8th Series of Redmi Note have broken many records and have set new heights of success in the market. The product has proved itself a reliable yet fully updated product in the midrange category. Although, Xiaomi has launched many new features in the Redmi Note 8 and Redmi Note 8 Pro but there are some features which make this product to standout among its competitors.
Auto cleaning:
Xiaomi has introduced auto cleaning speaker technology on Redmi Note 8 series that purges obstructions and dust from the speaker cavity with the help of low-frequency sound waves of 800 Hz. Xiaomi has become very first company in the market to use this feature in mobile phones. This technology will not only increase the reliability of speakers but the sound quality they will produce will be phenomenal.
It is proven that dust particles are really harmful for your mobile phones and with this technology you can remove all the dust in seconds, this feature shows Xiaomi's commitment towards its product and its customer. So hurry up and grab this outstanding mobile phone as early as possible, you can visit Mistore.pk to purchase Redmi Note 8 and Redmi Note 8 Pro.
Other features:
Redmi Note 8 Pro comes with Liquid Cool technology that helps keeping the temperatures low by 4-6 degrees to ensure smooth gameplay, for the first time Xiaomi has brought this technology to a Redmi Note series device. Redmi Note series devices are well known for their battery capacity, Redmi Note 8 Pro takes it a step forward with 4500mAh battery, which is almost 11% more than its predecessor.
Patron:
All the products come with exceptional warranty of Smartlink Technologies. Smartlink Technologies is the official partner of Xiaomi in Pakistan.